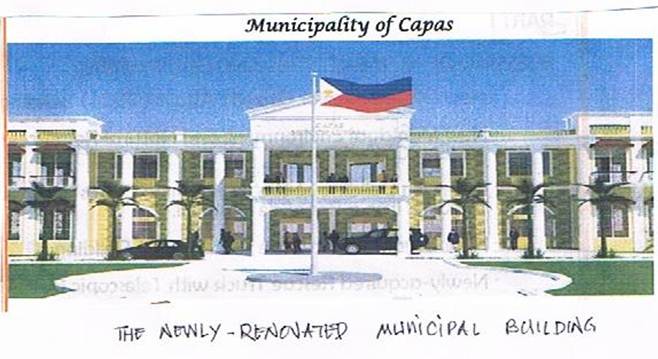 After 30 years since it was built, the Capas Municipal Building now stands newly-renovated, proud and impressive. The original building was constructed in 1983 through the benevolence of Hon. Ambassador Eduardo M. Cojuangco Jr.

The renovation involved the construction of additional left and right wing extensions, a new façade and veranda and a spiral staircase within the main lobby. The project resulted in an additional 474.55 square meters of office space. The municipal building is equipped with closed circuit television cameras (CCTVs) in all the rooms and strategic locations within the municipal grounds.
The renovation was completed with not a single loan incurred by the LGU. Mayor Antonio C. Rodriguez Jr., the re-elected Local Chief Executive, sought the assistance of the local business community and was able to secure eight million pesos (8,000,000) in the form of an Advance Tax Payment Scheme. The Hon. Senator Antonio F. Trillanes IV provided a five million pesos (5,000,000) funding assistance. Another five million pesos (5,000,000) was raised from local sources.
The original estimate for the renovation was thirty sis million pesos (36,000,000) but it was completed for only eighteen million pesos (18,000,000) because some of the discarded materials were recycled and used for the project such as antique capiz windows which were converted into chandeliers. Conference and executive tables were reconditioned and refurbished.
The Municipal Building, inaugurated April 30, 2013 and fondly referred to as the "White House" by the local residents, is indeed a gift to the people of Capas, Tarlac.