PNP-NEPPO holds Ground Breaking Ceremony "NEPPO Hostel Building"
Details

Written by

DILG Nueva Ecija

Category: DILG Nueva Ecija Latest Events
Hits: 1279

The Philippine National Police – Nueva Ecija Police Provincial Office held Ground Breaking Ceremony for their NEPPO Hostel Building headed by PNP Provincial Director PSSupt. Crizaldo O. Nieves on March 3, 2014 at Nueva Ecija Police Provincial Office (NEPPO) Gymnasium.
The building, which could also be used as a place during conferences, is intended for PNP Personnel and their families coming from other towns. It was donated by Governor Umali in recognition of the efforts of the PNP for keeping the province of Nueva Ecija safe. PNP Chief PDG Alan La Madrid Purisima, in his message, appreciated the support of Governor Umali for giving the Hostel Buiding and other infrastructure previously donated to the PNP. He also emphasized that that the PNP must enhance the COMPETENCE of each and every policeman, redefine and reform the ORGANIZATION, realize EXCELLENCE in all aspects of police work, and institute PROFESSIONALISM at all levels of the organizationto better serve and protect the community.
DILG Nueva Ecija joins BFP Fire Prevention Month Kick-off Ceremony
Details

Written by

DILG Nueva Ecija

Category: DILG Nueva Ecija Latest Events
Hits: 847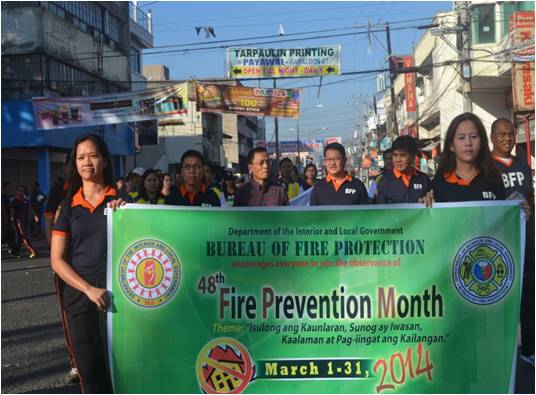 The Department of the Interior and Local Government- Nueva Ecija, headed by Provincial Director and concurrent Assistant Regional Director Abraham A. Pascua, joined the Bureau of Fire Protection, Regional Office III in their Fire Prevention Kick-off Ceremony with the theme "Isulong ang Kaunlaran, ang Kailangan" on March 1, 2014 held at Nueva Ecija Freedom Park, Cabanatuan City.
The activity started with a thanksgiving mass officiated by Rev. Michael Feliciano I. Veneracion whom, in his homily, reminded the importance of unity and the promotion of fire prevention for a fire free nation. It was then followed by a unity walk led by RD Ariel A. Barayuga of BFP R3; SSupt Leonard R. Bañago, BFP R3 Assistant Regional Director for Administration; Supt. Mario U. Racadio, BFP R3 Assistant Regional Director for Operations; and OIC-Asst. Regional Director Abraham A. Pascua who represented both DILG R3 Regional Director Florida M. Dijan and Gov. Aurelio M. Umali. The Unity walk was also participated in by Fire Officers and BFP Personnel from the provinces of Aurora, Bataan, Bulacan, Pampanga, Tarlac, and Zambales together with personnel from different agencies such as DILG-Nueva Ecija, PNP-NEPPO, DENR, DepEd, Academic Institutions, and Fire Volunteer Groups.
OIC-ARD Pascua, in his message during the kick-off program, emphasized the importance of strong partnership with other sectors of the society and the forging of meaningful linkages with other organizations – government and private alike. He also expressed his support to the endeavors of BFP.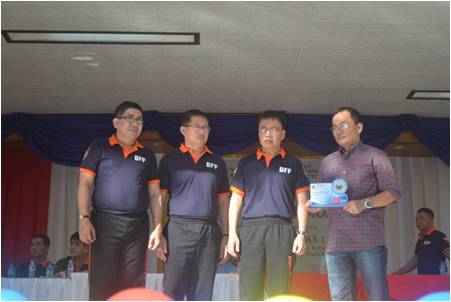 The activity ended with a simulation exercise that showcased the knowledge and capacity of the Fire Protection Group led by BFP ORD Rescue, EMS Personnel and Cabanatuan City Fire Station Personnel.
DILG Awards PCF Check to Municipality of Bongabon
Details

Written by

DILG Nueva Ecija

Category: DILG Nueva Ecija Latest Events
Hits: 635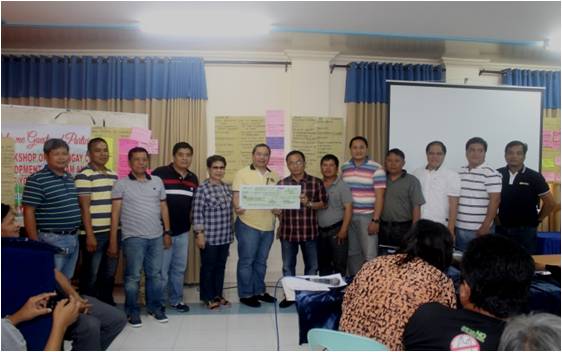 A ceremonial awarding of Performance Challenge Fund (PCF) check was held last February 25, 2014 at NEUST Sumacab Campus, Cabanatuan City, in recognition to the Municipality of Bongabon being one among the six(6) LGUs in Nueva Ecija conferred with the 2012 Seal of Good Housekeeping (SGH) Silver Award.

DILG Provincial Director of Nueva Ecija and concurrent Assistant Regional Director-DILG Region III, Abraham A. Pascua handed over the PCF check amounting to P1 Million to Mayor Allan Xystus A. Gamilla, together with Vice Mayor Edmund E. Arive with his set of Municipal Councilors, and Administrator and former Mayor Amelia A. Gamilla.
Dir. Pascua, in his message, enlightened the participants on the structure of the Seal of Good Housekeeping (SGH) Silver Award and availment of the PCF. He commended the LGU for passing the 2012 SGH Silver Criteria which include Good or Excellent Performance as indicated in the CSC Report Card Survey on the ARTA implementation, Functionality of the Bids and Awards Committee and Full Compliance to the posting requirement of PHILGEPS. He further stated that recipients of the Seal are eligible to access the PCF amounting to P3 Million for cities and P1 Million for municipalities.
The ceremony was held during the Barangay Clustering Seminar of the aforesaid municipality participated in by Punong Barangays, Barangay Kagawads, Barangay Secretaries, Department Heads, principals and teachers from schools, religious group representatives, senior citizen organization presidents, NGO representatives, and professors of NEUST Graduate studies.