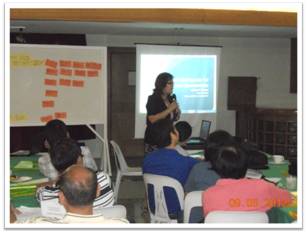 The Department of the Interior and Local Government Region 3 had conducted a three-day Training of Trainers on the Implementation of the Anti-Red Tape Act- Report Card Survey (ARTA-RCS) at Maharajah Hotel, Angeles City.  The training was aimed to capacitate DILG Provincial and City teams to ensure the effective administration and encoding of the report card survey instruments at all local government units in their respective area of jurisdiction.
A total of forty-seven (47) DILG personnel from Regions III and IV-B participated in the activity to include Provincial and City Directors, Cluster Leaders, CLGOOs, Provincial and City ARTA-RCS Point Persons and Regional Office team. 

Asst. CDD Chief Moral, head of the Regional ARTA-RCS Validation Team, emphasized that the main purpose of the training was for the provincial and city teams to have one common direction in the implementation of ARTA-RCS.  He also discussed the Salient Features of ARTA and Its IRR as well as Republic Act 9485.  On the other hand, LGOO V Ener Cambronero, member of the Regional Validation Team, explained the three (3) ARTA-RCS Instruments which are the Manual of Instructions, Inspection Checklist and the Survey Questionnaire.  He further informed the body that the ARTA-RCS rate is one of the criteria in the SGH Silver and Gold Award.

A simulation exercise on the administration of the report card survey was conducted on the second day in Angeles City and Municipality of Porac where local officials of these pilot areas committed to address all gaps identified by the team to ensure excellent delivery of public service to their constituents.

RD Florida M. Dijan, in her message, challenged the participants that the project must be done diligently and with ingenuity.  She expressed her confidence that all ARTA-RCS plans in the region will be accomplished with the help and great expertise of Region III's new Asst. Regional Director, Abraham A. Pascua.

The three-day training was concluded with the preparation of respective Implementation Plan of ARTA-RCS.

In summary, the activity was suc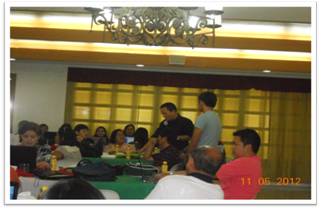 cessfully completed.  Participants had given their active participation during its conduct with the commitment of carrying-out the project successfully as planned in their respective ar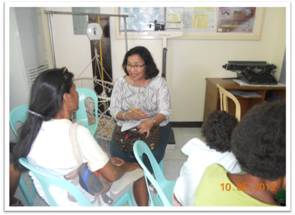 eas.