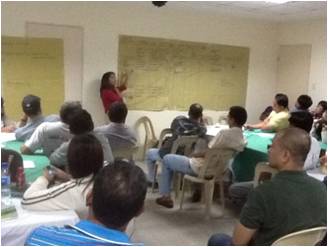 As part of the project Strengthening Philippine City Capacities to Address Climate Change Impacts, the UN-Habitat has identified Olongapo City as one of its pilot LGUs.  To this effect, Olongapo City, DILG Region III and UN-HABITAT-Philippines represented by Mayor James Gordon, Jr., Dir. Florida M. Dijan and Ms. Maria Adelaida M. Manonong, respectively, forged a partnership for the purpose of undertaking a Climate Change Vulnerability and Adaptation Assessment and mainstreaming its result into local plans of the city, particularly its Comprehensive Land Use Plan (CLUP) and Comprehensive Development Plan (CDP).
   To jumpstart the project, Mayor Gordon organized a technical working group headed by Engr. Marivic Nierras, the City Planning and Development Officer.  Said TWG shall provide the technical inputs during the data gathering, workshops and related activities.  On the other hand, UN-HABITAT Philippines will take charge of the technical assistance in the areas of capacity assessment, disaster risk/climate change vulnerability in local plans and shall provide resource support such as technical, consultants and financial assistance.  DILG Region III, in turn, has also organized a team headed by OIC-MED Chief Lerrie S.  Hernandez.  The team will assist Olongapo City and UN HABITAT Philippines in the actual conduct of Vulnerability and Adaptation Assessment in their CLUP and CDP Preparation. 
    As an offshoot activity, an Orientation-Workshop  on Vulnerability and Adaptation Assessment for the Sectoral Committees of the City Development Council and Punong Barangays was conducted last June 7-8, 2012 at Forest View and Leisure Residences, SBMA, Olongapo City.
    Risk assessment will likewise be held on June 21-22, 2012 which will involve the actual conduct of surveys/inspections of most vulnerable areas and population. 
    The United Nations Human Settlements Program, UN-HABITAT, is the United Nations agency for human settlements. It is mandated by the UN General Assembly to promote socially and environmentally sustainable towns and cities with the goal of providing adequate shelter for all. It runs a number of global programs that involve countries from all over the world. The programs involve a wide range of partners ranging from central government, local government to civil society and beneficiary communities.
   At present, UN-HABITAT-Philippines is implementing a technical assistance project entitled Strengthening Philippine City Capacities to Address Climate Change Impacts.  This project which is being implemented in coordination with DILG Region III seeks to increase the adaptive capabilities of local governments by strengthening governance structures, engaging stakeholders and providing integrated strategies to mitigate and adapt climate change through improved planning and management.