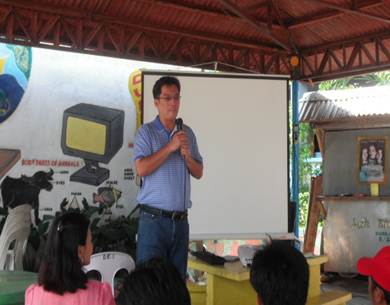 To combat the province's growing problem on Solid Waste Management, the municipal government of Limay, Bataan thru the Office of the Mayor in coordination with the Department of the Interior and Local Government of Limay conducted an activity entitled "Orientation-Briefing on Ecological Solid Waste Management". The activity was held on May 21, 2013 at Duale Elementary School, Brgy. Duale, Limay, Bataan. It was attended by Punong Barangays, Barangay Kagawads, Tanods and members of the Indigenous community of Barangay Duale as pilot barangay. The Municipal Mayor, SB Member (Comm. Chairman on Environment), Municipal Engineer, Municipal Agriculture Office, Liga ng mga Barangay, and Office of the Municipal Administrator were also present during the activity.
The primary objective of the activity is to inform the people of the 3Rs of ecological solid waste management: REDUCE, REUSE and RECYCLE of household wastes. In addition, the activity aims to protect human health from the adverse effects of unmanaged wastes and recuperate the environmental condition of every barangay by removing unpleasant and harmful wastes along roads and pathwalks.
Discussion on waste segregation at source, establishment of barangay Material Recovery Facility (MRF), provision of financial assistance to pilot barangay as counterpart of the Municipal Government to assure successful implementation of the project, formulation of Barangay Action Plan to sustain the project, and commitment of support of LCE and other key local officials to maintain project were some of the featured highlights of the event.