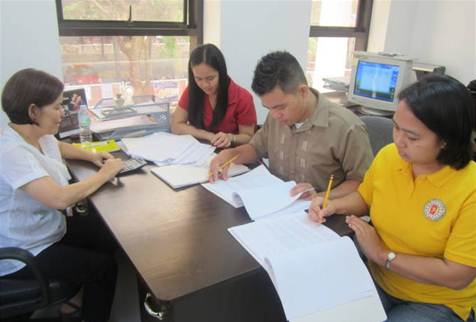 To ensure validity and completeness of Local Governance Performance Management System (LGPMS) Data of CY 2012, the Provincial Team composed of OIC-CTL Yvette Cosio, LGPMS Focal Person Cristy Blanco, LGOO II Jesusa Margallo, LGOO II Catherine Aduna and ADAS II Johnny Mandocdoc conducted field visits in all component LGUs of Bataan including the City of Balanga, on March 4-8, 2013.
The activity was commended by Local Planning and Development Officers as other LGU functionaries became more aware of the importance of submitting verified data into the system.
Likewise, this activity is a prelude to the Orientation Briefing on the 2013 Implementation of LGPMS and Seal of Good Housekeeping (SGH) on March 12-13, 2013 at Maharajah, Hotel, Angeles City, wherein LGU functionaries and data encoders will be oriented on matters pertaining to the 2.1 Version of the LPMS, SGH and Anti-Red Tape Act-Report Card Survey (ARTA-RCS) Report Card Survey Results. This is for the purpose of ensuring 100% uploading of 2012 LGPMS Data of the entire Province and for promoting our Department's mandate of transparent and accountable LGUs.