Details

Category: DILG Pampanga Latest Events
Hits: 985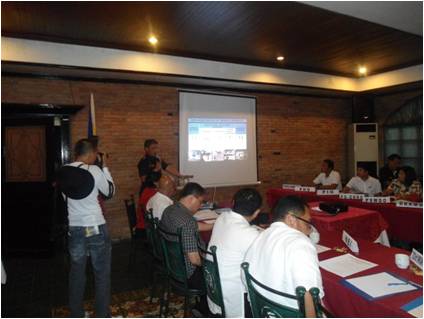 The Pampanga Peace and Order Council, headed by the Honorable Governor Lilia G. Pineda was convened on April 16, 2013, at Max's Restaurant, JASA, City of San Fernando (P). Present during the activity were Vice Gov. Joseller M. Guiao, Provincial Administrator Andres S. Pangilinan, Jr., BM Crisostomo Garbo, DILG Provincial Director Myrvi Apostol-Fabia, PNP Provincial Director R'win Pagkalinawan, 703rd IB Commanding Officer Henry G. Sabarre, BFP Provincial Director Emmanuel Arrozal, NBI Regional Director Atty. Jose Justo S. Yap, PDEA Regional Director Adrian G. Alvarino, DOJ Provincial Prosecutor Atty. Lamberto Gonzales, Jr., DPWH Representative Engr. Marissa Miguel, DepEd Asst. Sch. Div. Supt. Mr. Malcom S. Garma, DAR Provincial Officer Engr. Ramon V. Estanislao III, NCIP Pampanga Service Center Chief Regina Panlilio, DTI OIC-Provincial Director Elenita R. Ordonio and Pampanga Department Heads from PG-ENRO, Provincial Agriculture, PSWDO, DRRMO and PIO.
Highlights of the activity were the Presentations on Peace and Order Situation by the PNP, Illegal Drugs Situation by the PDEA and Insurgency Situations by the AFP inthe Province of Pampanga. The PNP, PDEA and the AFP presented their respective accomplishment for the first quarter of CY 2013 and their proposed activities for theupcoming mid-year National and Local Elections. The Honorable Governor instructed the PNP and AFP to work hand in hand for a peaceful election. She likewise requestedfor the cooperation of the council to monitor respective agency role for a peaceful and orderly Province of Pampanga.