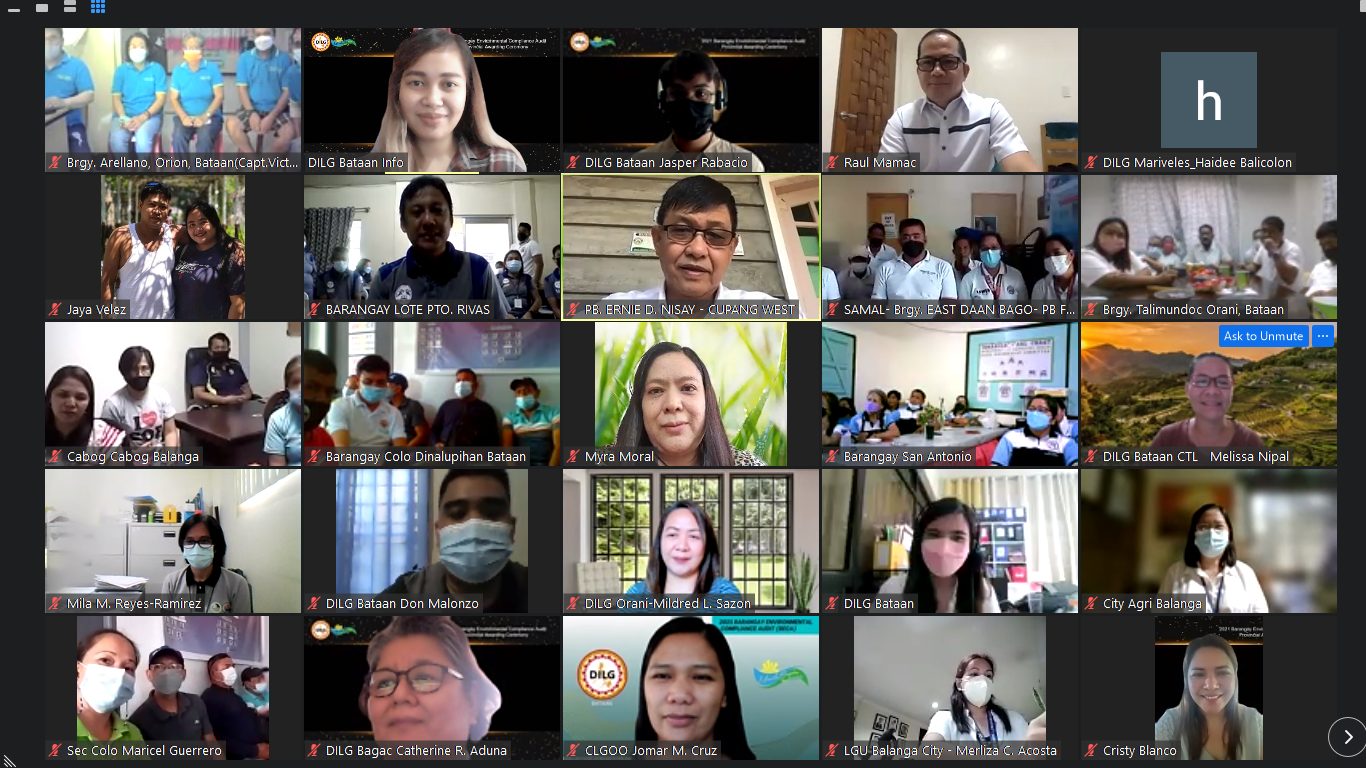 Nine barangay awardees were conferred in the 2021 Barangay Environmental Compliance Audit (BECA) provincial awarding ceremony on November 22, 2021 via Zoom.

The online activity, initiated by DILG Bataan is the first BECA recognition conducted in the province, following the results of the recently-held provincial assessment.

BECA is developed to recognize and assess the compliance of barangays to the pertinent provisions of RA 9003 or the Ecological Solid Waste Management Act of 2000.

PB Richard Sioson of Brgy. Lote Puerto Rivas, Balanga City and PB Jenelita Cudia of Brgy. San Antonio, Bagac delivered their acceptance speech after receiving their award for being the Top Performing Barangays for the city and municipal category, respectively. Audio-visual presentations showcasing their best practices in solid waste management were also shown after their message.

The first and second runners-up who also graced the event are the following:

City Category
1st Runners-Up:
✅Brgy. Cabog-Cabog, Balanga City
✅Brgy. Cupang West, Balanga City
Municipal Category
1st Runner-Up:
✅Brgy. East Daan Bago, Samal
2nd Runners-Up:
✅Brgy. Colo, Dinalupihan
✅Brgy. Baseco Country, Mariveles
✅Brgy. Talimundoc, Orani
✅Brgy. Arellano, Orion

In his message, PENRO Raul Mamac emphasized the careful and stringent assessment done by the provincial assessment committee to evaluate the best barangays in the province. He also shared that while he was tasked to give an inspirational message for the event, he was the one inspired when he recognized how the barangays in Bataan performed their duties and showed care and efforts in preserving the environment.

Lote Puerto Rivas and San Antonio are the province's entry for the BECA regional assessment.

Once again, congratulations to all awardees and we look forward to your continuous efforts towards the preservation and cleanliness of our environment! #1Bataan