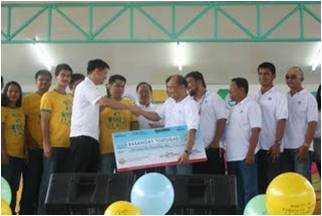 With the end in view of empowering the 25 barangays in the City of Balanga by way of promoting social consciousness among the local elective leaders, the Barangay Week Program (Version 2), again, is being implemented in the City of Balanga, Province of Bataan by the honorable Jose Enrique S. Garcia III supported by the esteemed Governor Enrique T. Garcia, Jr. and 2nd District Congressional Representative Albert Raymond S. Garcia.

As an expanded version of the Barangay Assembly, the core of the said program, now on its 4th year of implementation, is the provision, through consultation with community leaders and local folks alike, of the basic needs of the community  as well as the promotion of transparency among barangay leaders. The linchpin of the program is the guiding principle that sustainable development could be achieved collectively from the   grassroots level of governance coupled with active participation of the barangay constituents and other stakeholders all committed to share their expertise, resources and common desire to come up with a master piece of delivering to the ordinary folks a package of programs and projects such as  Orientation on Katarungang Pambarangay, Barangay Performance Management System, Barangay Health Day, Financial Management, Disaster Prevention and Solid Waste Management, among others.

Giving spirit and substance to the program, the City Mayor and all other stakeholders held five (5) Barangay Week cum Barangay Assembly program for this quarter of CY 2012. The most recent of which was conducted in Barangay Tortugas, whereby Honorable Mayor Garcia was welcomed by the local folks through singing of their official barangay hymn entitled " Hawakan Mo Ang Bukas" (Hold On To The Future).

On that event, the members of the said Sangguniang Barangay led by Punong Barangay Victor A. Baluyot, Jr., like all the rest who conducted Barangay Week in the said locality, reported their accomplishments vis-à-vis programs and plans they presented on the last barangay assembly in October CY 2011.