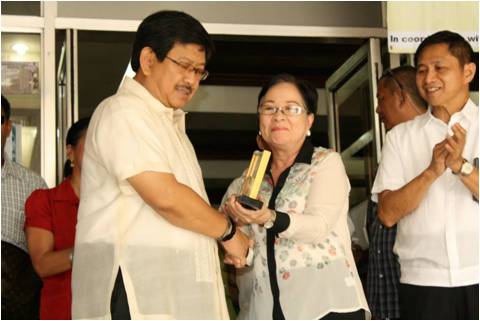 The Department of Interior and Local Government (DILG) Regional Office awarded Mayor Edgardo D. Pamintuan last Monday flag ceremony,(July 22) for his prompt submission and presentation of a social contract to his constituents.


According to DILG Angeles City Director Remedios Rodriguez, Pamintuan was the first local chief executive in Central Luzon to submit his social contract.

"The creation and submission of a social contract was the output or end result of an orientation on local governance held from June 17 to 19 for newly elected chief executives in Region III," Rodriguez explained.

Pamintuan, however, has already revealed his new contract which is the "Contract with the Angeleños" for years 2013 through 2016 during the inauguration and oath taking of all city officials held July 1.

"We started drafting contracts for our constituents during my candidacy for mayoralty way back in 2010. Since we have accomplished that contract in our last term, we felt the need to create a new contract for this current term in order to expand on the programs and services the Angeleños need," the mayor said.

The new contract includes an additional 38 components, adding to the previous 39, and tackles services ranging from education, healthcare, environment, economic stability, tourism, traffic management, socialized housing and barangay affairs.

Pamintuan also added three special concerns which are also part of the new contract which will aim to establish programs and projects for the city's lesbian/gay/bisexual and transgender (LGBT) community, the youth sector, and for children in conflict with the law.

"This is another award which has, frankly, caught us by surprise. We are simply delivering the basic services for our constituents, and I am glad that the DILG recognizes such," he added.