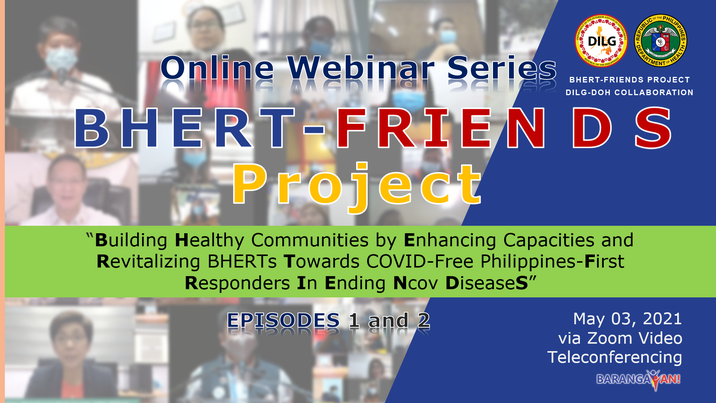 The Province of Aurora, taking the challenge of PRRD for a collaborative effort between departments and agencies in this fight against COVID-19, conducted the Provincial Roll-out of Online Webinar Episodes of the BHERT-FRIENDS Project, May 3, 2021.
This activity, also known as BHERTs – First Responders in Ending NCOV Diseases (BHERTs Friends) Project, aims to enhance and capacitate the Barangay Health Emergency Response Teams (BHERTs) in the Province.
The one-day webinar session was sliced into two episodes: 1. "Engaging BHERTS for a Safer Community" and 2. "BHERTS in Action: Safeguarding the Community".
The two episodes highlighted functions of BHERTS, the National Vaccination Program, and the Contact Tracing Program as discussed by representative from the Provincial Health Office.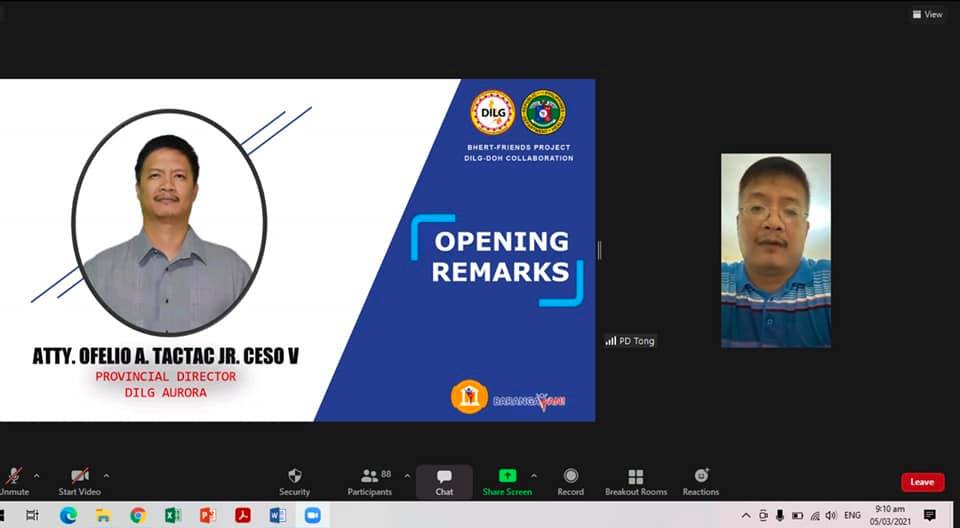 Atty. Ofelio A. Tactac Jr., Provincial Director, acknowledged the vital role of the BHERTs as the first responders in this time of pandemic and their distinguished contribution in managing the spread of the COVID-19 disease. He noted that as long as the BHERTs, community and National Government work together, the efforts will be more efficient and effective.
LGOO VII Dennis A. Daquiz then presented the BHERT-FRIENDs Project efforts of the DILG and DOH such as conduct of stakeholder's forums and capacity development interventions and distribution of pocket guides for BHERTs.
Afterwards, LGOO VI Mary Joyce T. Bautista discussed the Facts about COVID-19 and reiterated the BHERTs roles and responsibilities in the management of COVID-19 in the community. Ms. Bautista also shared various safety tips for BHERTs in the exercise of their functions during day-to day activities.
Ms. Venus Pagaduan, Provincial Coordinator for National Immunization Program of the Provincial Health Office discussed the latest update on the National Government's Immunization Program. Ms. Pagaduan also discoursed about Case Identification and Investigation, Case Finding: Surveillance and Contact Tracing, Case Management and Monitoring, Quarantine and Isolation. Ms. Pagaduan also encouraged all BHERTs members and barangay officials to get vaccinated, not only for their own protection, but for their families and the entire country.
Lastly, LGOO V Florenz Zaira B. Buenconsejo facilitated the open forum wherein questions and other concerns were raised and properly address by the resource speakers.
Overall, the activity successfully served as a venue to: (1) Remind the Punong Barangays and BHERTs of their respective roles in addressing COVID-19; (2) Strengthen the capacities of BHERTs; (3) Facilitate collaboration of stakeholders in the operation of BHERTs; and (4) Engage the community into work with the government to achieve the common goal in thwarting the COVID-19 pandemic.
The conduct of the BHERT FRIENDS PROJECT webinar series is in adherence to the Barangayyan Program developed by the Department in accordance with the COVID-19 Management Program in the country.
#