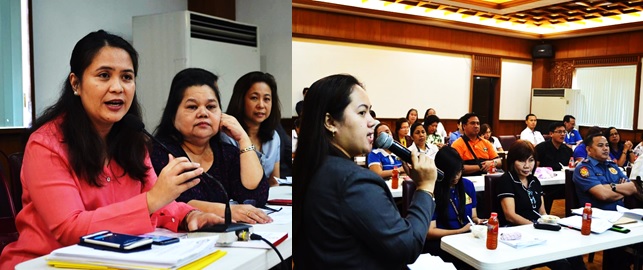 (L) PD Myrvi Apostol-Fabia leads the discussion with CTLs Irinea Bacani and Renalyn Iglesias, and OIC-PM Rosalinda Sarmiento; (R) SGLG Provincial Focal Person Josephine Villanueva elaborates the indicators to department heads and agency representatives.
The Department of the Interior and Local Government of Pampanga, under the guidance of Provincial Director Myrvi Apostol-Fabia, conducted an orientation-briefing for the provincial government to communicate the 2016 Seal of Good Local Governance (SGLG) on February 23, 2016 at the Executive House, Provincial Capitol Building, City of San Fernando.
All Pampanga provincial government department heads under the leadership of Governor Lilia G. Pineda and other agency partners convened in preparation for the assessment on the clamored SGLG.
"The SGLG is a prestigious award being given to LGUs all over the country, it is a difficult yet reflective instrument which can determine and improve the state of local governance," PD Fabia shared.
PD Fabia, likewise, emphasized that the continuous improvement in the governance of LGUs could translate to better performance of the national government and vice versa.
"The performance of LGUs is parallel to the performance of the National Government. The better national service delivery we experience now is rooted on the improved governance on the local level," she added.
Pampanga passed 4 out the 6 assessment areas last 2015. While it was not enough to bag the Seal, the provincial government, through the dynamic leadership of Governor Pineda, is determined and optimistic to ace the assessment this year.
Only 15% of all LGUs evaluated during the program's 2015 iteration have passed and granted with the Seal. Despite this, the DILG is adamant on the implementation of stricter indicators to further uplift the service-delivery of LGUs.
The SGLG is one of the flagship programs of the Department which assesses LGUs nationwide on their compliance to existing laws related to the delivery of a variety of basic services to their populace.