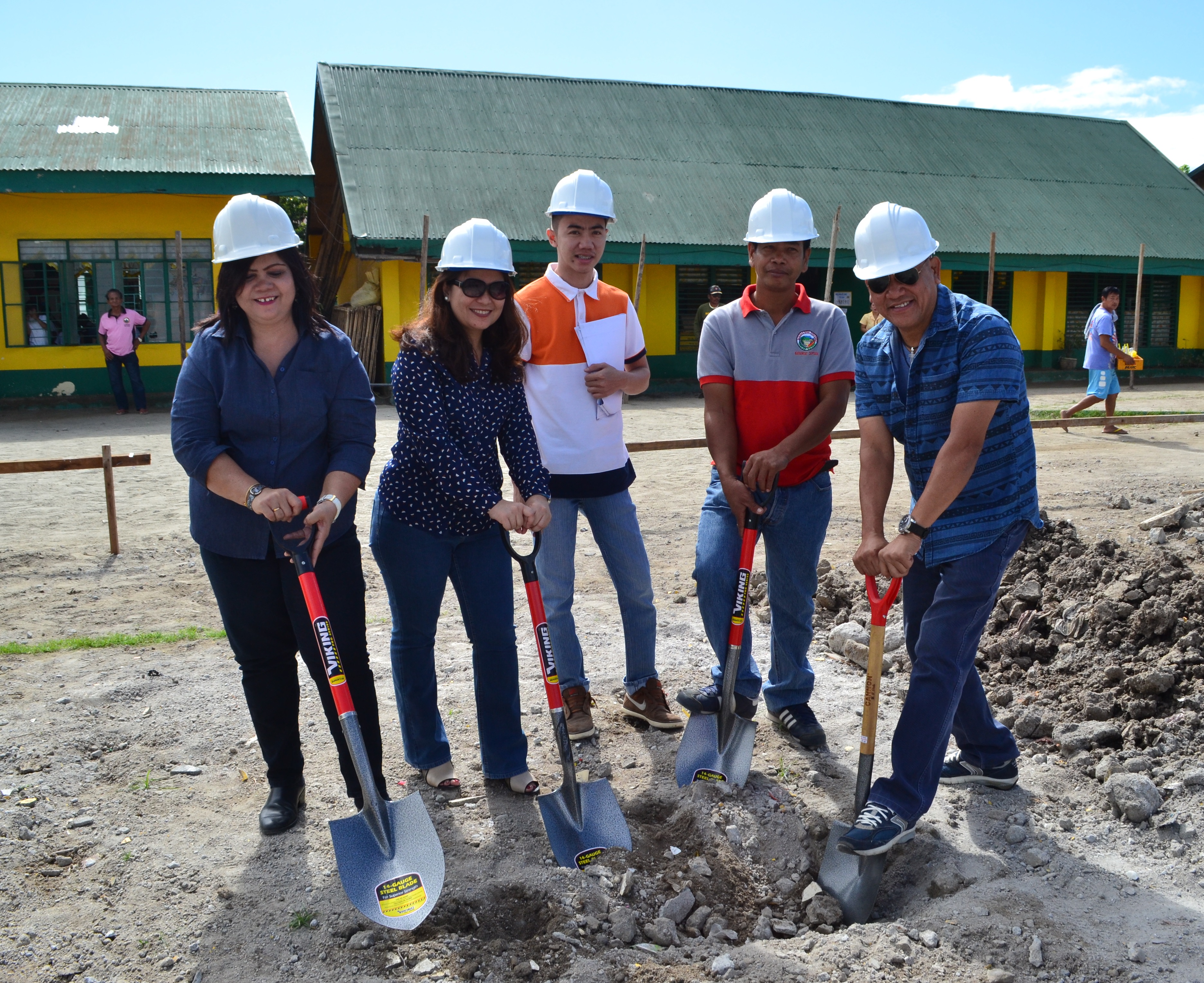 GROUNDBREAKING.
(L to R) Calangain Elementary School Principal Teresita Chavez, DILG PD Myrvi Apostol-Fabia, Positive Builders and Trading representative, Punong Barangay Eloy Mendoza, and OIC-PPDO Engr. Wilfredo Manalili, shoves their spades in the groundbreaking ceremony today.
Calangain Elementary School in Barangay Calangain, Lubao received 7Million worth of two (2) storey six (6) classroom building in a simple groundbreaking ceremony held today, February 24.
The school was chosen by the provincial government headed by Governor Lilia G. Pineda to be the recipient of the Performance Challenge Fund granted as incentive in passing the Seal of Good Housekeeping 2014 by the Department of the Interior and Local Government.
According to DILG Pampanga Director Myrvi Apostol-Fabia, the Department lauds the accountable, transparent and exemplary performance of Governor Pineda's leadership which availed the province the Seal and the PCF incentive.
"We, in the Department, feel fulfilled that through the provincial government, we are directly addressing the poverty in the grassroots level, in this instance, the problem of classroom shortage, through giving the 7million peso incentive to fund the construction of school building in Calangain Elementary School," PD Fabia said.
Ms. Teresita B. Chavez, school principal, then thanked Governor Pineda in choosing their humble school to be the recipient of the school building, and the DILG for the funding source under the PCF Program.
"We, with the teaching force of Calangain, express our heartfelt gratitude to Nanay Baby [Gov. Pineda] and Ma'am Fabia for this blessing. More than 300 enrollees of Calangain, with 45-60 students sharing per classroom, may then enjoy the privileges of a more convenient learning environment once the 2-storey 6-classroom building has been finished," Ms. Chavez shared.
The groundbreaking ceremony was graced by PD Fabia, Ms. Chavez, Officer-in-Charge Provincial Planning and Development Officer Engr. Wlfredo Manalili, and the representative of the Positive Builders and Trading.
The Performance Challenge Fund is an incentive-giving program of the Department in form of financial subsidy translated into infrastructural projects to address the multi-dimensional poverty needs in the community.