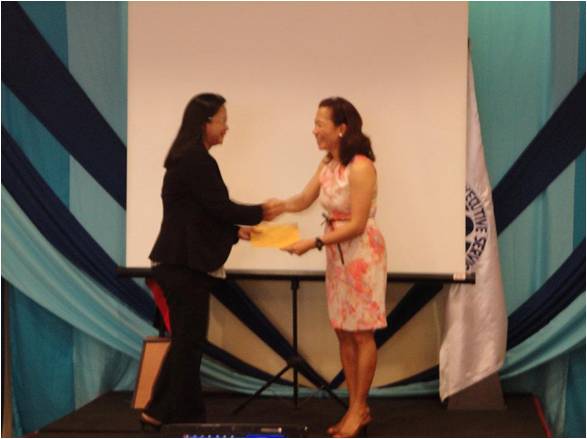 PD Armi V. Bactad has recently completed the multi-phase and multi-faceted Executive Leadership Program (ELP) for Career Executive Service Officers. This program is targeted to the development, advancement, and nurturance of the core management competencies relevant to the roles of public managers. It aims to raise the level of competence of the members of the Career Executive Service (CES), instill a deeper sense of commitment to public service amongst career executives, and help them understand the CES as a program of government, as a service, a culture, and a way of life.
The ELP follows a three-pronged leadership and management framework of knowing oneself, relating with others, and leading the organization. This framework is translated into three training courses, namely: "Salamin ng Paglilingkod" or SALAMIN which focuses on the self, "Diwa ng Paglilingkod" or DIWA which focuses on others, and "Gabay ng Paglilingkod" or GABAY which is more geared towards the "organization."

An integrated approach to the SALAMIN and DIWA courses, the SALAMIN-DIWA ng Paglilingkod Course Session XVI, was conducted on March 06 to 19, 2012 at Splash Oasis Hotel, Splash Mountain, Los Baños, Laguna. Its aim is to enhance the effectiveness of public managers and reinforce their belief that leaders must first know themselves well before they can lead others effectively. It also intends to enhance the working knowledge on interpersonal skills and how a manager can make use of these skills to elicit productive behavior from subordinates and positively influence superiors' and peers' behavior towards cooperation and support. Part of the SALAMIN-DIWA course is the Community-Organizational Attachment Module, popularly known as "Barangay Immersion," where the public manager will have the opportunity to live, eat, and interact with foster families in the barrio for four days and three nights. It seeks to sensitize the public leaders to the development challenges that confront the marginalized communities and allows the CESOs to know the aspirations of the people whom they serve.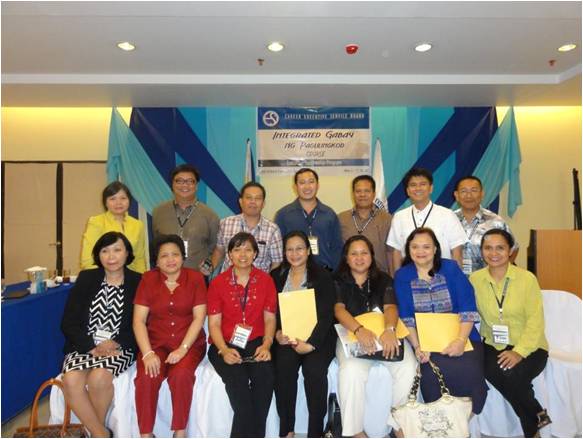 The final component of the ELP, the Integrated Gabay ng Paglilingkod or GABAY Session XII course, was conducted at Hotel Ariana, Bauang, La Union on May 03 to 11, 2012. The GABAY course provides learning modules aimed at addressing the executive's needs to remain effective on the job and also seeks to impart a deeper appreciation of the policies and programs of the government. As the term suggests, the GABAY course seeks to impart know-how and tools to guide public managers in their day-to-day management of governance concerns.