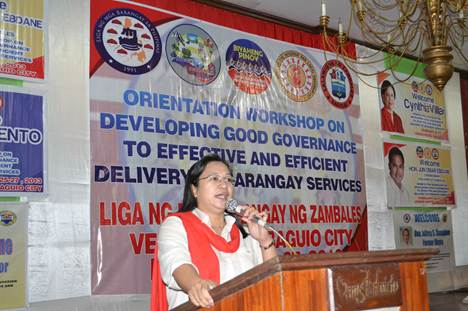 The Liga ng mga Barangay led by Hon. Ruel P. Sarmiento and DILG headed by PD Armi V. Bactad, CESO V conducted an Orientation-Workshop on Developing Good Governance to Effective and Efficient Delivery of Barangay Services last February 25 to 27, 2013 at Venus Parkview Hotel, Baguio City. This activity aims to further enhance good governance in the barangay level through its better delivery of services by the barangay officials to its constituents.
During the opening program, Hon. Joel A. Alangsab, National Board of Director, LnB CAR, officially welcomed the participants to their city. On the other hand, PD Bactad, provided an overview of the topics to be discussed for the whole duration of the event. These topics include the Code of Conduct and Ethical Standards for Public Officials and Employees (RA 6713) and the Anti-Red Tape Act (RA 9485). She also discussed the upcoming activities for March, the observance of "Earth Hour" and the Barangay Assembly Day.
The presentation regarding the Background of the Citizen's Charter was provided by DILG Pampanga Provincial Director Myrvi Apostol-Fabia, CESO V. She included in her discussion the provisions of the ARTA and the Report Card Survey which aims to evaluate the performance of the LGUs with regards to their services to clients. She stressed that a copy of the Citizen's Charter should always be present to serve as guide to the level of service especially of the LGU's frontliners. Mr. Randy C. Tababa, Chief Personnel Specialist from the Civil Service Commission (CSC) Region III discussed RA 7613 along with the eight (8) norms of conduct a government employee should have and its prohibited acts and transactions. LGOO VI Rolando D. Ocampo presented the topic on Promoting and Sustaining Barangay Good Governance. He added in this presentation the elements of good governance and the implementation of the posting of barangay budget, expenditures and other financial transactions.
The participants had a fellowship night to appreciate the culture of the Cordilleras through its ethnic dancers and forge camaraderie and establish relationship among the barangay officials in the province.
The event was graced by former Las Piñas Representative Cynthia Villar, Zambales Governor Hermogenes E. Ebdane Jr. and Zambales 2nd District Representative Jun Omar Ebdane who vowed to continue supporting policies and programs that aims to improve the welfare of the barangays in the province. The activity was also attended by the MLGOOs who provided technical assistance to the said event