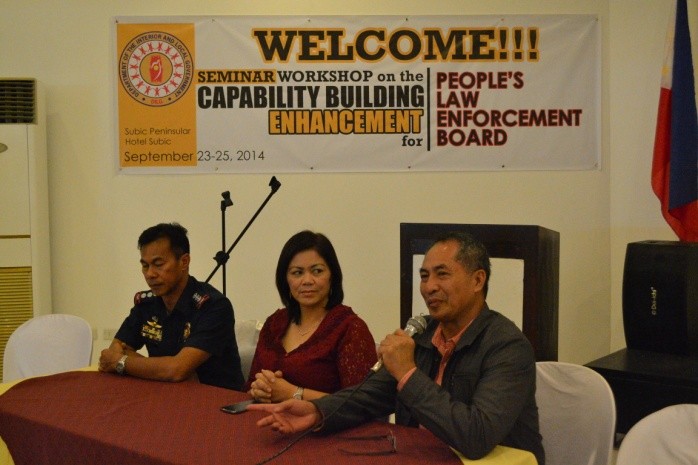 The DILG Tarlac in coordination with the National Police Commission Region 3 and Provincial Government of Tarlac conducted the Seminar Workshop on the Capability Enhancement of People's Law Enforcement Boards (PLEBs) of Tarlac on September 23-26, 2014 at the Subic Bay Peninsular Hotel in Subic Bay Freeport Zone.
The PLEB is one of the local special bodies mandated by law to be created in LGUs particularly in cities and municipalities. The PLEB is composed of members from local sanggunian, punong barangay, and CSO representatives chosen by the local peace and order council. It is an administrative body with the authority to hear and decide citizen complaints against members of the Philippine National Police and, therefore, exercises judicial functions.
The seminar workshop featured presentations from renowned chiefs/lawyers of the NAPOLCOM Region 3 such as RD Manuel L. Pontanal, ARD Leonardo C. Guzman, Atty. Domingo P. Guanzon, Atty. Bernardina V. Joven, and Atty. Arlene Castro-Co.
During the opening program, Provincial Director Araceli A. San Jose of DILG Tarlac stressed the importance of holding a PLEB seminar to help LGUs be familiarized on the processes involved from filing cases to rendering decisions on cases against policemen which are brought to the said Board. She also said that citizen's participation is evident in PLEB thereby giving CSOs more chance to participate in governance especially in disciplining erring policemen.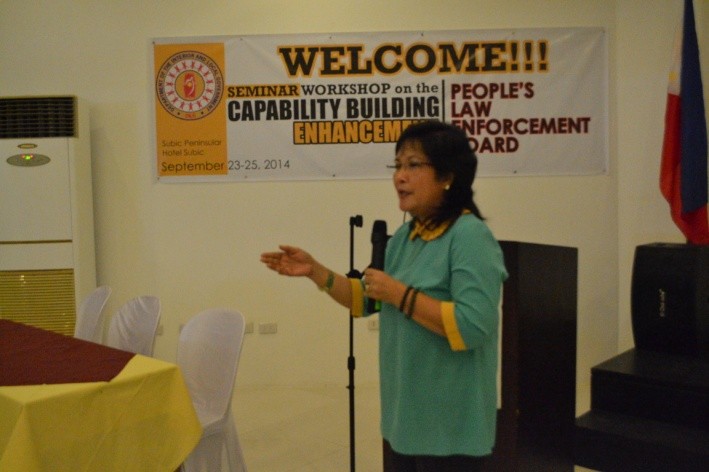 DILG-3 RD Florida M. Dijan in her message, emphasized the importance of disciplining policemen especially with the recent events where some policemen gained notoriety as they were tagged as suspects in some crimes. She said that there are only few scalawags in the PNP and that most of its members are of high integrity. "The very few scalawags should not be allowed to tarnish the image of the PNP", she said. In closing, RD Dijan asked the members of PLEBs, NAPOLCOM, and PNP to join hands in disciplining policemen and in ensuring peace and order and public safety.
The activity also featured a mock court where the participants were divided into groups for this role play. The knowledge gained during the seminar were applied in the role play with RD Manuel L. Pontanal of NAPOLCOM R3 critiquing the mock court and providing suggestions and giving more information.
PSSupt Alex B Sintin, Provincial Director of Tarlac Provincial Police Office, joined RD Pontanal and PD San Jose as panelist in the Open Forum. The chiefs of police of the Province of Tarlac also participated during the Open Forum. As stakeholders, the participation of the chiefs of police and the chance to interact with the disciplining authorities are deemed important.
PD San Jose extended her gratitude to the PLEB members who participated in the seminar and asked them to inform their localities on the existence of PLEB as a disciplinary mechanism that promotes citizens participation.