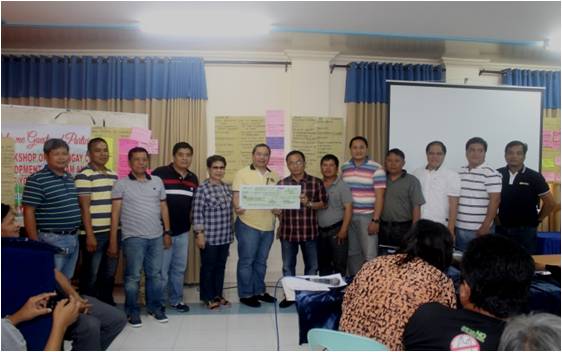 A ceremonial awarding of Performance Challenge Fund (PCF) check was held last February 25, 2014 at NEUST Sumacab Campus, Cabanatuan City, in recognition to the Municipality of Bongabon being one among the six(6) LGUs in Nueva Ecija conferred with the 2012 Seal of Good Housekeeping (SGH) Silver Award.

DILG Provincial Director of Nueva Ecija and concurrent Assistant Regional Director-DILG Region III, Abraham A. Pascua handed over the PCF check amounting to P1 Million to Mayor Allan Xystus A. Gamilla, together with Vice Mayor Edmund E. Arive with his set of Municipal Councilors, and Administrator and former Mayor Amelia A. Gamilla.
Dir. Pascua, in his message, enlightened the participants on the structure of the Seal of Good Housekeeping (SGH) Silver Award and availment of the PCF. He commended the LGU for passing the 2012 SGH Silver Criteria which include Good or Excellent Performance as indicated in the CSC Report Card Survey on the ARTA implementation, Functionality of the Bids and Awards Committee and Full Compliance to the posting requirement of PHILGEPS. He further stated that recipients of the Seal are eligible to access the PCF amounting to P3 Million for cities and P1 Million for municipalities.
The ceremony was held during the Barangay Clustering Seminar of the aforesaid municipality participated in by Punong Barangays, Barangay Kagawads, Barangay Secretaries, Department Heads, principals and teachers from schools, religious group representatives, senior citizen organization presidents, NGO representatives, and professors of NEUST Graduate studies.