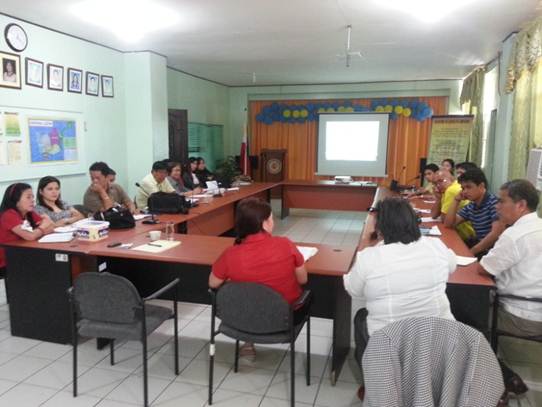 The Manila Bay Coordinating Unit of the DILG R3 together with the other mandamus agencies composed of the Technical Working Group (Core Group) conducted its coordination meeting last February 11, 2013 at the DILG Conference Room, Maimpis, City of San Fernando, Pampanga.

The meeting, the first activity of the group this year, is part of the planning and assessment activities which the core group undertakes periodically in order to measure the effects of their efforts in cleaning the Manila Bay Watershed Areas.
ARD Abraham A. Pascua presided the meeting and discussed all the issues and concerns of each member agency. He also encouraged everyone to take their efforts and initiatives into "the next level" through intensified clean-up drives and improved advocacies.

MED Chief Lerrie S. Hernandez gave the overview of the activity wherein the different members of the Core Group were tasked to present their updates and programs. Likewise she reported the accomplishments and proposed plans of DILG R3 from February to March.
Each Core Group Member presented their updates and plans on the implementation of their programs relative to the Manila Bay Clean Up, Rehabilitation and Preservation Project.

The National Housing Authority, a new member of the group, represented by Ms. Ines C. Gonzales tackled the major predicament of the project involving the Informal Settler Families Cluster (ISF). She explained the process and initiatives that their agency undertakes in relocating the ISF all over the Region and expressed their willingness to contribute to the core group's programs in addressing the continuous problem of squatter proliferation.

The activity concluded with a message of RD Florida M. Dijan encouraging all the members of the TWG to intensify their advocacies and coordination with one another in order to accomplish the huge endeavor of rehabilitating the Manila Bay Watershed Areas.