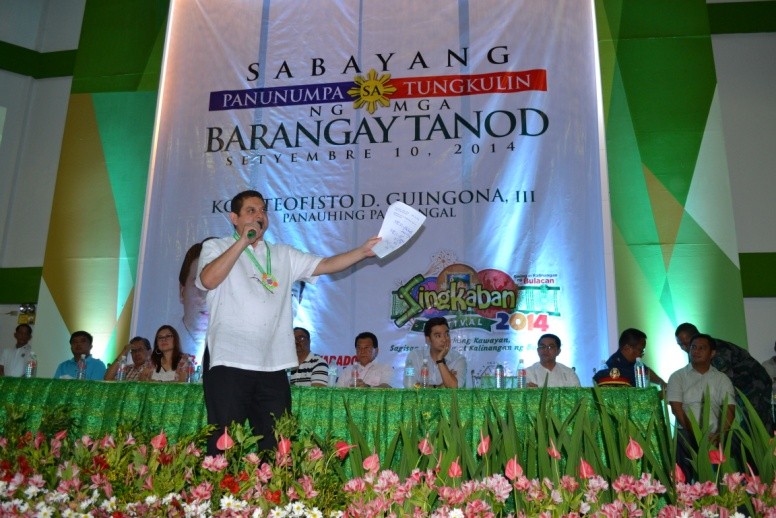 A day of appreciation for the Brgy. Tanods for their invaluable contribution in keeping peace and order in the Province of Bulacan was held on September 10, 2014 at the Bulacan Capitol Gymnasium. A mass oath taking of the 569 Barangay Tanod Executive Officers was led by Gov. Wilhelmino Sy-Alvarado and the event's guest speaker, Sen. Teofisto "TG" Guingona III.

Hon. Mark Cholo Violago, President Liga ng mga Barangay- Bulacan Chapter, in his speech, recognized the dedication of the Barangay Tanods in performing their tasks. Meanwhile, Vice Gov. Fernando emphasized the responsibilities of the barangay tanods, as force multipliers in keeping peace and order. He also appreciated their attentiveness in times of chaos and disaster and urged them to continue their good work and be even more vigilant.

On the other hand, Gov. Sy-Alvarado mentioned that the voluntary acceptance of the responsibility of being a Barangay Tanod is a noble act considering the consequences of assuming great responsibility. He also mentioned the point of care program of the PhilHealth that Brgy. Officials, workers, and volunteers and their families can avail.

Sen. Teofisto D. Guigona III, in his speech, recognized the bravery and strength of the barangay tanods in conquering the challenges to protect the community without any reservation. He furthered the important contribution of the brgy tanods in attaining economic development: "Mahalaga ang tanod dahil nagkakaroon tayo ng tatlong bagay: mapayapang kapaligiran, damdamin at kaisipan. Kapag nandyan itong tatlong bagay susunod na ang kaunlaran." Moreover, he stressed that the artistry and culture of the province are the real treasures that enrich the character of the Bulakenyos which has brought many of our national heroes. "Ang bayani ay isang Pilipino na ang pagmamahal sa bayan ay parang isang pag ibig na makapangyarihan, kaya handa siyang hamakin ang lahat para sa ating mamamayan." he added.

Before he ended his speech, he shared the good news with the three Senate bills: (1)Bill No. 712 to provide mandatory PhilHealth coverage to senior citizens nationwide, (2) Bill No. 2390 extending the term of barangay office to six years, and lastly, (3) Bill No. 12 providing retirement benefits to Brgy. Officials, including Barangay Tanods, and Barangay Health Workers.
This event was attended by barangay tanods from all municipalities and cities in the Province of Bulacan, Liga ng mga Barangay headed by Hon. Mark Cholo Violago, the Board Members of the Province, PNP Bulacan headed by PSSupt. Ferdinand O. Divina and DILG headed by PD Darwin David.