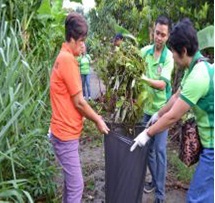 The Municipal Government of Pulilan, Bulacan has conducted a one day Synchronized Regular Monthly Clean-Up drive on August 29, 2014 participated in by Municipal and Barangay Officials, volunteers, National Government Agencies- DILG, PNP, BFP and BJMP, PENRO, DPWH and other various stakeholders. The said clean-up drive is in compliance with the Supreme Court En Banc Decision promulgated on December 2008 directing the 13 National Government Agencies and Local Government Units concerned to clean, preserve, rehabilitate and restore the Manila Bay Watershed Areas to its former glory.
Before the clean-up drive, a coordination meeting with the Mandamus Agencies-DILG-DENR-DPWH together with the representatives from the Provincial Government of Bulacan and the Municipal Government of Pulilan was held on August 14, 2014. The said meeting, spearheaded by the DILG-Bulacan Provincial Office thru the initiatives of PD Darwin D. David aims to identify a "showcase barangay" or the center of the clean-up drive in the municipality and to discuss the necessary preparations and roles/contributions of each concerned Agencies and LGUs during the clean-up drive.
The clean-up drive with the theme "Kalinisan Tungo sa Ligtas na Pamayanan" is as simple yet an inspiring message to instill to the hearts and minds of the stakeholders that progress begins with self-discipline, that is, taking good care of the environment by simply following the laws and ordinances related to the environment, such as disposing garbage into the right places, segregation of garbage at source, and observing the 3 Rs (Reduce, Re-use, Re-cycle) rule in managing solid wastes.
Approximately, six (6) trucks of mixed wastes (candy wrappers, cigarette butts, cables, plastics, stryrofor, diapers, napkins, used garments, etc.) were collected during the conduct of this noble activity at Dampol 1st, the center barangay of the clean-up drive.
This is already the 4th DILG-Bulacan- spearheaded clean-up drive for the year 2014.