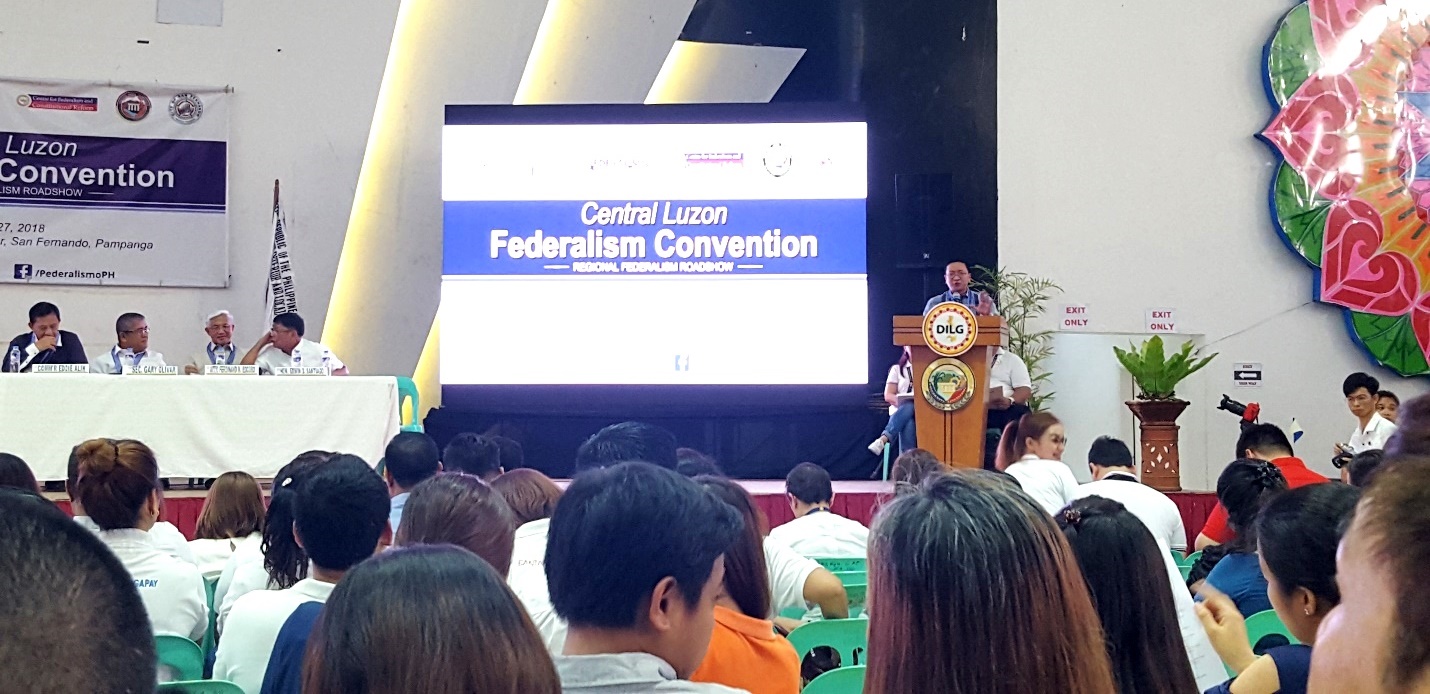 Tarlac City, Tarlac – Inching closer to changing the country's political structure, the Center for Federalism and Constitutional Reform gathered the city and municipal mayors, liga ng mga barangay presidents, SK Federation Presidents, DILG officers, media practitioners, and CSO members in the Regional Convention for Federalism in the City of San Fernando, Pampanga on September 27, 2018.
City of San Fernando, Pampanga Mayor Edwin Santiago exuded the San Fernandino hospitality by welcoming the attendees to the activity which came after the media briefing in a separate venue.
DILG Assistant Secretary Jonathan Malaya congratulated DILG Regional Director Julie Daquioag for organizing the Federalism Roadshow. According to him, change is unavoidable and there are many difficulties that may be encountered along the way in effecting these changes, including resistance to change. He then allayed the misgivings of people by saying that a federal form of government would make way for empowerment and local autonomy.
To provide general insights on the fiscal reforms of a federal government, Mr. Gary Olivar of the Forum on Economic Freedom explained the economic issues that beset a unitary form of government resulting from the big gap between the Gross Domestic Product (GDP) of NCR and other regions in the country. He said federalism may help bridge these differences and encourage subsidiarity, accountability, healthy competition, unity, and the decongestion of Metro Manila.
Professor Eddie Alih, Commissioner of the Consultative Committee to review the 1987 Constitution, opined that while the country may be rich in mineral and natural resources, the people remain poor because of several imbalances in governance. He then provided an overview of the proposed Bayanihan Federal Constitution and structure of the federal government.
Atty. Ferdinand Bocobo, also a commissioner of the Consultative Committee discussed the social and political reforms under the proposed system. According to him, the three branches of government will remain while the legislative branch will have some changes particularly on the number and manner of electing senators which will be done by region. The President's term will also be shortened from 6 years to 4 years with one reelection.
The official jingle and federalism logo was introduced by the Federalism PMO which combined different Filipino elements to depict a closer and more reliable government for the people that matches the slogan, "malapit na gobyerno, dama ang serbisyo."
The event is one of the first in the series of Federalism Roadshows in the country which aims to inform the key players in local government units about the new features of the proposed system advocated by President Rodrigo Duterte.