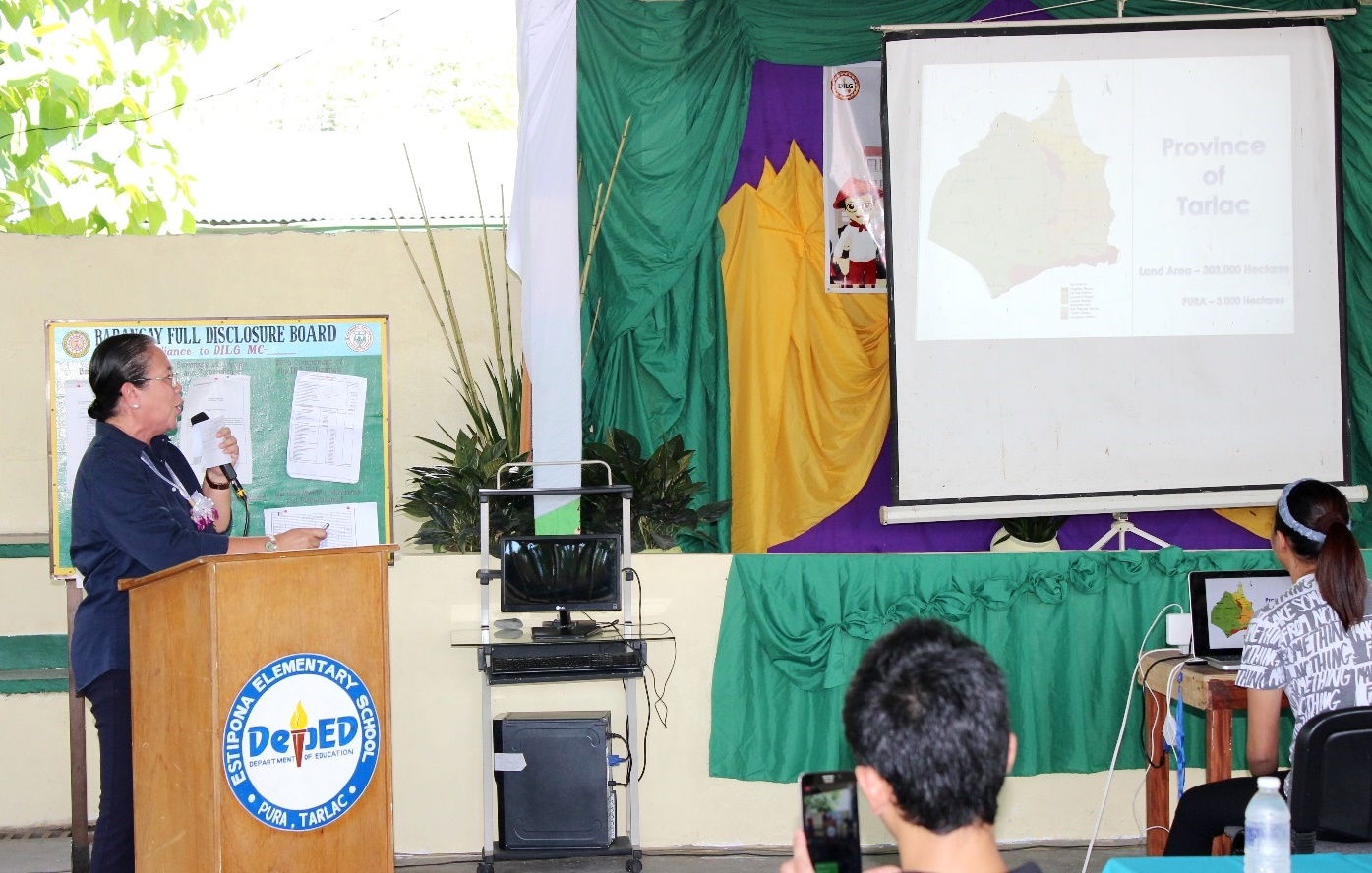 Tarlac City, Tarlac - Barangay Estipona of the Municipality of Pura, Tarlac held its second semester Barangay Assembly on October 14, 2018 at the Barangay's Covered Court pursuant to the provisions in the Sections 397 and 398 of the Local Government Code of 1991 (RA 7160) requiring the holding of barangay assemblies at least twice a year, to hear and discuss the report of the Barangay concerning its activities and finances as well as problems affecting the community.
200 participants that include personnel from DILG Tarlac, Bureau Fire Protection, Pura Police Station, members of the different Civil Society Organizations composed of youth, women, senior citizens, and homeowners' associations attended the event.
Pura Municipal Mayor Concepcion Zarate gave the opening remarks and made a short presentation proudly introducing her municipality. This was followed by an overview on the rationale behind the conduct of the barangay assembly by DILG Tarlac Provincial Director Belina Herman. She also encouraged the participants to bring the members of their families on the next barangay assembly as such activity presents the people the opportunity to contribute to the affairs of their barangay.
MLGOO Omar James Gabriel read the message of OIC-Sec. Eduardo Año and was followed by a brief discussion about Federalism by Cluster Team Leader Ener Cambronero.
Punong Barangay Florante Isla, Sr. presented the barangay's accomplishments for the first 100 days as well as the on-going projects and future plans for their barangay.
Barangay Treasurer Mary Anne Pascua presented the Financial Report of the Barangay from January to October 2018, which includes the Annual Budget for the year 2018 and the disbursement of the 20% Development Fund, among others. She also informed the participants that the financial reports are accessible within the premises of their Barangay Hall, which are in compliance with the Barangay Full Disclosure Policy that ensures that all financial documents are accessible to the residents.
The committee reports were presented by their respective chairpersons. Meanwhile, SK Chairperson Dominic Hernandez presented their accomplishments and future plans.
An open-forum was also facilitated and the program ended with a closing message from Punong Barangay Florante Isla, Sr.