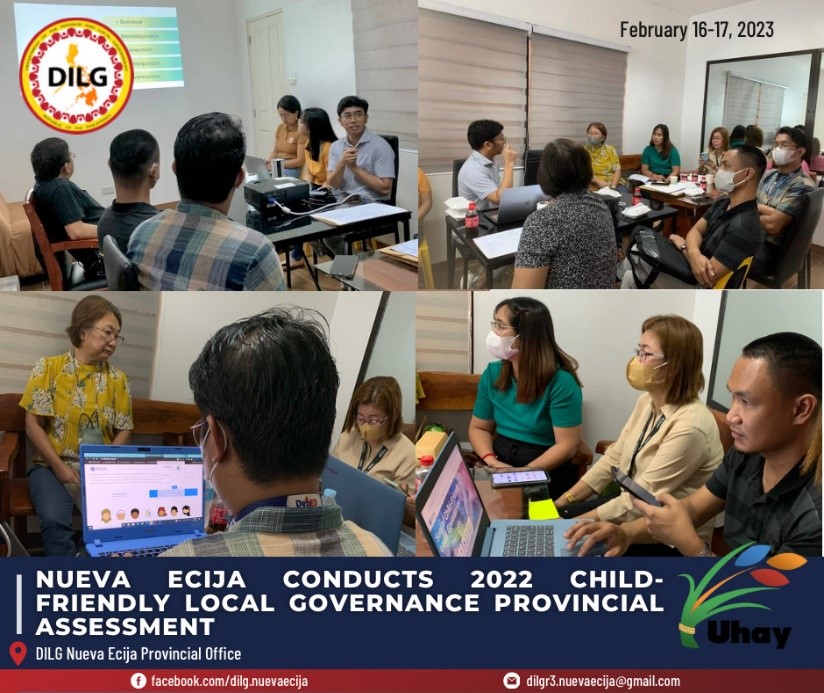 The members of the Provincial Inter-Agency Monitoring Task Force (PIMTF) convened on February 16-17, 2023 at the DILG Nueva Ecija Provincial Office to conduct a provincial table assessment for the 2022 Child-Friendly Local Governance Audit (CFLGA).
 The activity aimed to evaluate the 2021 performance of the five (5) cities and twenty-seven (27) municipalities of the Province of Nueva Ecija covering the five (5) criteria namely; Survival, Development, Protection, Participation, and Governance.
In his opening remarks, LGOO VII Dennis A. Daquiz stressed the significance of this assessment and emphasized the need to continuously improve the performance of the LGUs in providing child-friendly policies, programs, and services, as well as in ensuring governance that is responsive to the needs of children.
To align the understanding of the PIMTF, the members of the DILG Nueva Ecija Social Protection Team presented the CFLGA updates and reviewed the categories and indicators.
Further, LGOO II Bon Paby P. Mingua provided a walkthrough of the Seal of Child-Friendly Local Governance Knowledge Management System (SCFLG-KMS) and facilitated the review of the submitted Means of Verifications (MOVs) of the LGUs through the system.
In attendance were the members of the PIMTF composed of representatives from DILG, PSWDO, PPDO, PHO, DepEd, and CSO.