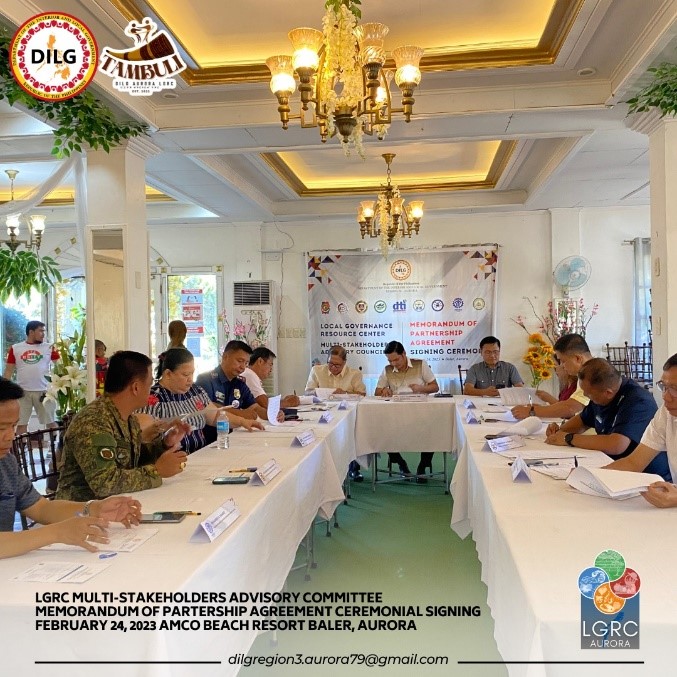 With the ultimate goal of creating and institutionalizing a knowledge center that is diverse, convenient, with free access to all available information on local governance, the DILG Aurora and its LGRC "Tambuli" officially inked its collaborative partnership with the Aurora Multi-Stakeholders Advisory Committee (MSAC) on February 24, 2023.
 With the official signing of the Memorandum of Partnership Agreement, the Aurora Multi-Stakeholders Advisory Committee is now officially composed of members from the Wesleyan University of the Philippines headed by Ret. Judge Benjamin Turgano from WUP Main Branch with Dra. Estrella Buenaventura from the Aurora branch; DILG attached agencies namely PNP Aurora headed by PCol Myles Angel PAscual, AFP 91st IB Sinagtala Battalion headed by LTC Julito B. Recto, Jr., represented by Cpt. Candidato Paduman, BFP Aurora headed by Supt. Jonathan Glemao; PDEA Aurora headed by Provincial Director Liwanag Sandaan; National Government Agencies namely DTI Aurora headed by Provincial Director Aldrin Veneracion, TESDA Aurora headed by Provincial Director Cylie Amor Litao, Philippine Statistics Authority headed by Ms. Julita Valdez, and Liga Provincial Chapters namely Philippine Councilor's League headed by Aurora PCL President- Aurora Chapter, Hon. Danilo M. Ong, and Liga ng mga Barangay - Aurora Chapter headed by President, Hon. Maria Elena F. Nicer.
The MOPA signing shall be the igniting engine of a more significant partnership between the DILG Aurora LGRC and the MSAC to help initiate steps towards building organizations as Knowledge Centric Organizations (KCO) to promote the culture of knowledge sharing and learning; contribute to LGRRC Aurora's relevant local governance knowledge products, good practices and its replication; improve socioeconomic conditions via means of knowledge sharing; and effectively transform each organization into becoming a more productive and transformative development partners.
"This partnership presents vast and promising capabilities not only between the DILG and the WUP, but also to our stakeholders that are here today. We are committed to deliver the best kind of assistance we can provide, to give quality research and extension service as expected from us, and we look forward to more productive collaborations as we move forward to more years with encompassing dedication to improve the lives of the community we serve. We hope that this official inking of partnership may pioneer more intensive collaborations and developmental programs not only from us but to our partners.", said Judge Turgano as he pledged his commitment of support to the MSAC significant collaboration.
"Napakagaling ng simbolo ng Tambuli, it signifies timeliness and volunteerism. It shall be the representation of our mutual cooperation and partnership.", Ret. Turgano said.
As the TAMBULI positions itself as a learning hub by institutionalizing knowledge management and encouraging a culture of learning, sharing, and replication of best practices in local governance for its clientele with the aim of customizing knowledge products and services to the needs and demands of clients, the official collaboration between the DILG and its MSAC shall achieve the end goal of fostering communities that are safe and secure, business-friendly and competitive, environment-friendly and climate change-adaptive, and transparent and responsible local governments.