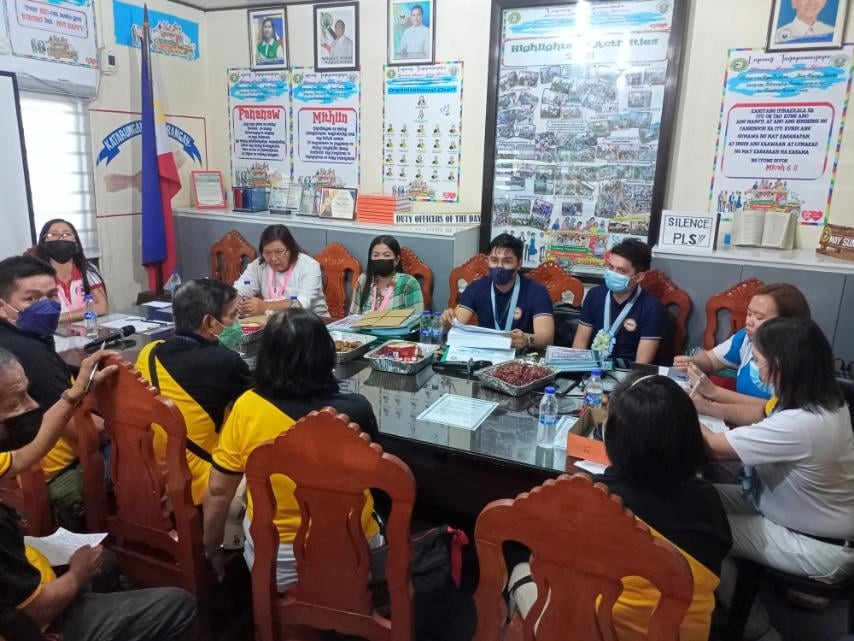 The Lupon Tagapamayapa of Brgy. Alangan (Limay) and Brgy. Sta. Lucia (Samal) were assessed for this year's Lupong Tagapamayapa Incentives Awards (LTIA) as the Regional Awards Committee held an onsite validation on April 18, 2022.
Adjudged as the best lupons in the province, Alangan and Sta. Lucia represented Bataan in the LTIA regional search for the 1st-to-3rd class municipality and 4th-to-6th class municipality category, respectively.
PB Teresita Dela Rea of Alangan and PB Ruperto Forbes of Sta. Lucia presented their efficient and well-documented transactions in settling conflicts, as well as their innovative practices in settling cases and active approach in peace and conflict resolution to the regional validators.
The onsite assessment in Alangan was attended by Cong. Joet Garcia of the 2nd District of Bataan and Limay Mayor Nelson David while validation in Sta. Lucia was graced by Samal Mayor Aida Macalinao.
The validations were also supported by DILG Bataan Provincial Director Myra Moral-Soriano and Program Manager Allan Don Malonzo. The lupons of Alangan and Sta. Lucia are guided by their respective DILG officers, MLGOO Evelyn Matias and MLGOO Ma. Jasmin Bartolo.
Regional winners will represent Central Luzon and move on to the LTIA national level. Notably, Brgy. Alangan was conferred as the national winner in the 2021 LTIA.
LTIA is an annual recognition of the exemplary performance of the Lupong Tagapamayapa in their implementation of Katarungang Pambarangay or Barangay Justice System.