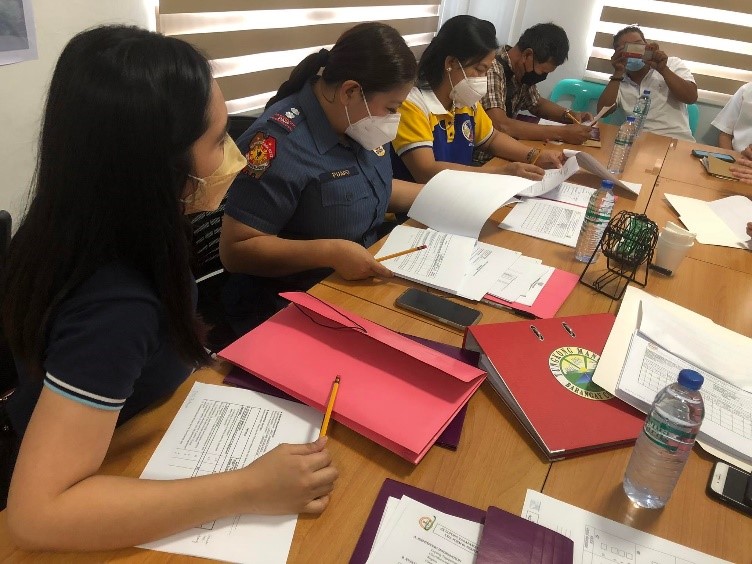 In search of the exemplary Lupon in the implementation of the Katarungang Pambarangay (KP), a series of assessments were conducted by the DILG Bulacan to nominated Barangays vying for the 2022 Lupong Tagapamayapa Incentives Award (LTIA).
 The provincial assessment of Lupon nominees was divided into three (3) parts, namely: 1) Table Assessment 2) On-site Assessment and 3) Final Table Validation; and focused on the following criteria: Efficiency in operations, Effectiveness in securing the settlement of interpersonal dispute objective of the KP program, Creativity and resourcefulness of the Lupong Tagapamayapa, Area or facility for KP activities, and Financial or non-financial support for KP.
The nominees assessed were endorsed by their respective City/Municipal Assessment Committees and have garnered scores of 85% and above.
As a result of the provincial assessment, the following barangays were endorsed to DILG Regional Office as the 2022 LTIA Provincial Nominees:
Brgy. Tungkong Mangga, City of San Jose Del Monte (1st place, Component City Category);
Brgy. Tibag, Pulilan (1st place, 1st-3rd Class Municipalities Category);
Brgy. Gatbuca, Calumpit (2nd place);
Brgy. Longos, Balagtas (3rd place); and
Brgy. Sta. Cruz, Guiguinto (4th place).
The LTIA is an annual search that recognizes outstanding Lupong Tagapamayapa that adequately demonstrates the ability to judiciously and expeditiously resolve cases referred to them and demonstrates exemplary performance and commendable contributions in the promotion of the Katarungang Pambarangay (KP).
It also aims to strengthen the KP as an indigenous conflict resolution structure at the grassroots, institutionalize a system of granting economic benefits and other incentives to Lupons, and generate greater awareness among, and support from, the various sectors of the Philippine society on the KP as a potent vehicle toward social order and human development.
The activity was conducted by the members of the Provincial Assessment Committee composed of representatives from DILG Bulacan, Office of the Provincial Prosecutor, Regional Trial Court, Provincial Government of Bulacan, Philippine National Police- Bulacan, and Citizen Anti-Crime Assistance Group (partner Civil Society Organization).