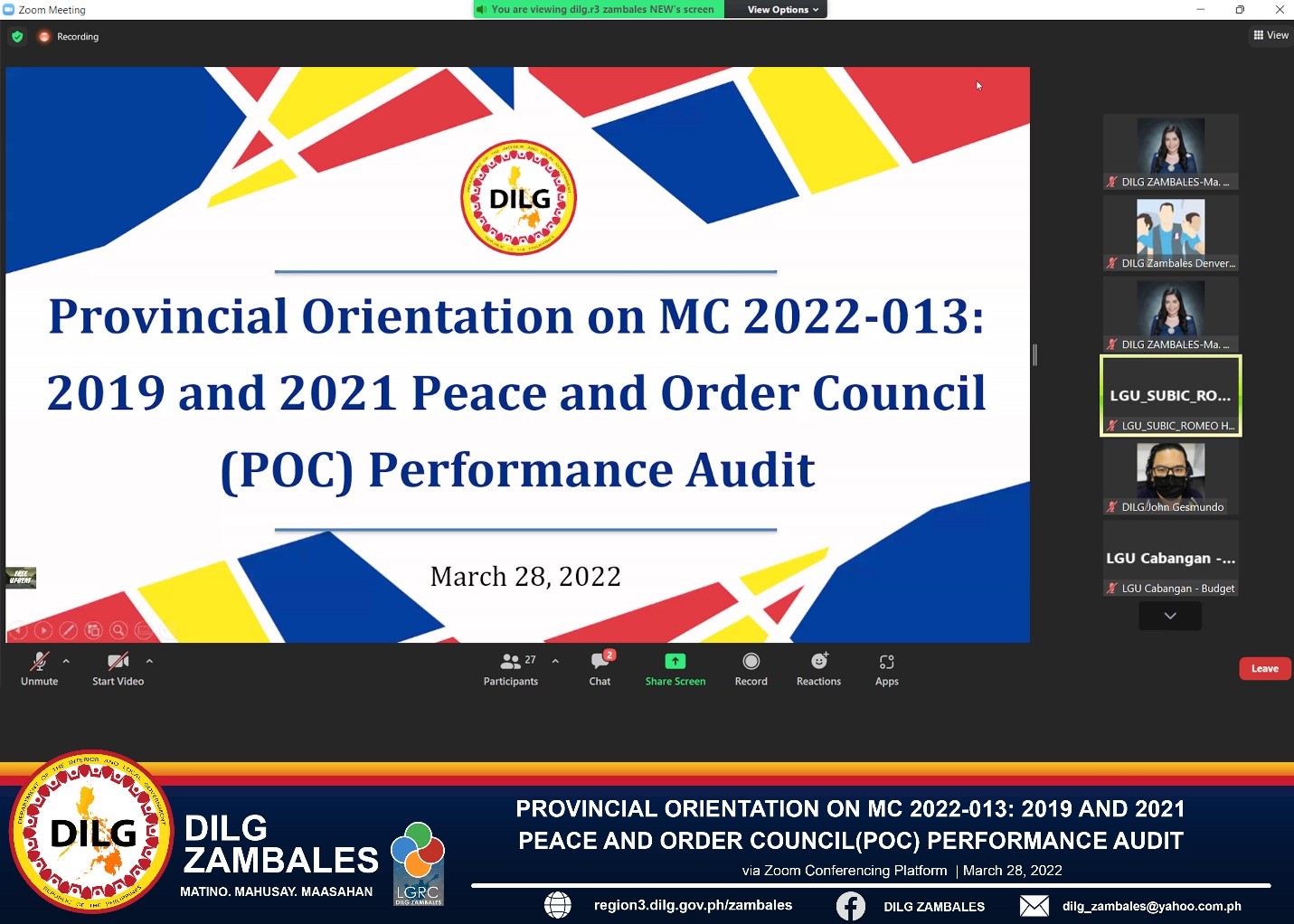 The Department of the Interior and Local Government (DILG) Zambales, headed by Provincial Director Armi V. Bactad conducted an orientation for this year's iteration of the Peace and Order Council (POC) Performance Audit, on March 28, 2022 via Zoom Video Conference platform.
 Municipal Local Government Operations Officers (MLGOOs), Local Government Units' (LGU) POC Focal Persons and POC Secretariat Staff from the 13 Municipalities, and the Provincial Government of Zambales participated in the said activity as part of their initial preparations for POC Audit which will culminate in May 2022.
POC Audit Provincial Focal Person, Local Government Operations Officer (LGOO) V Suslijah John N. Gesmundo discussed the DILG Memorandum Circular (MC) 2022-013, entitled 2019 and 2021 Peace and Order Council (POC) Performance Audit, which provides for the guidelines on the said assessment aimed at assessing the performance of local POCs in 2019 and 2021. He added that the said issuance aimed to further institutionalize the implementation of DILG MC 2019-143 or the Omnibus Guidelines for Peace and Order Councils (POC), which serves as the legal basis for the annual conduct of the assessment.
Likewise, a hands-on demonstration on the utilization of the online POC Audit System was demonstrated by LGOO VI Nedricks P. Canlas to provide a walk-through of the submission of POC-related documents intended for the assessment. The introduction of the said system is part of the government's effort to curb the effects of the pandemic, in order to utilize a safe avenue in the processing of an LGU's submission and the conduct of audit by the respective Assessment Teams.
The POC is the government's platform for stronger collaboration of the Local Government Unit (LGU) with law enforcement agencies and the community to fight criminality, illegal drugs, insurgency, and violent extremism. It creates an enabling environment among its members to harmonize and effectively implement peace and order and public safety activities. As part of the Government's commitment to keep all of its instrumentalities up to speed, a regular performance check is conducted to ensure everything is in good condition— readily available to serve the people.
As can be noted, CY 2020 was not included as some government operations were put on hold to strictly enforce health and safety protocols, enabling government agencies to focus on the concerns that arise with the COVID-19 pandemic.