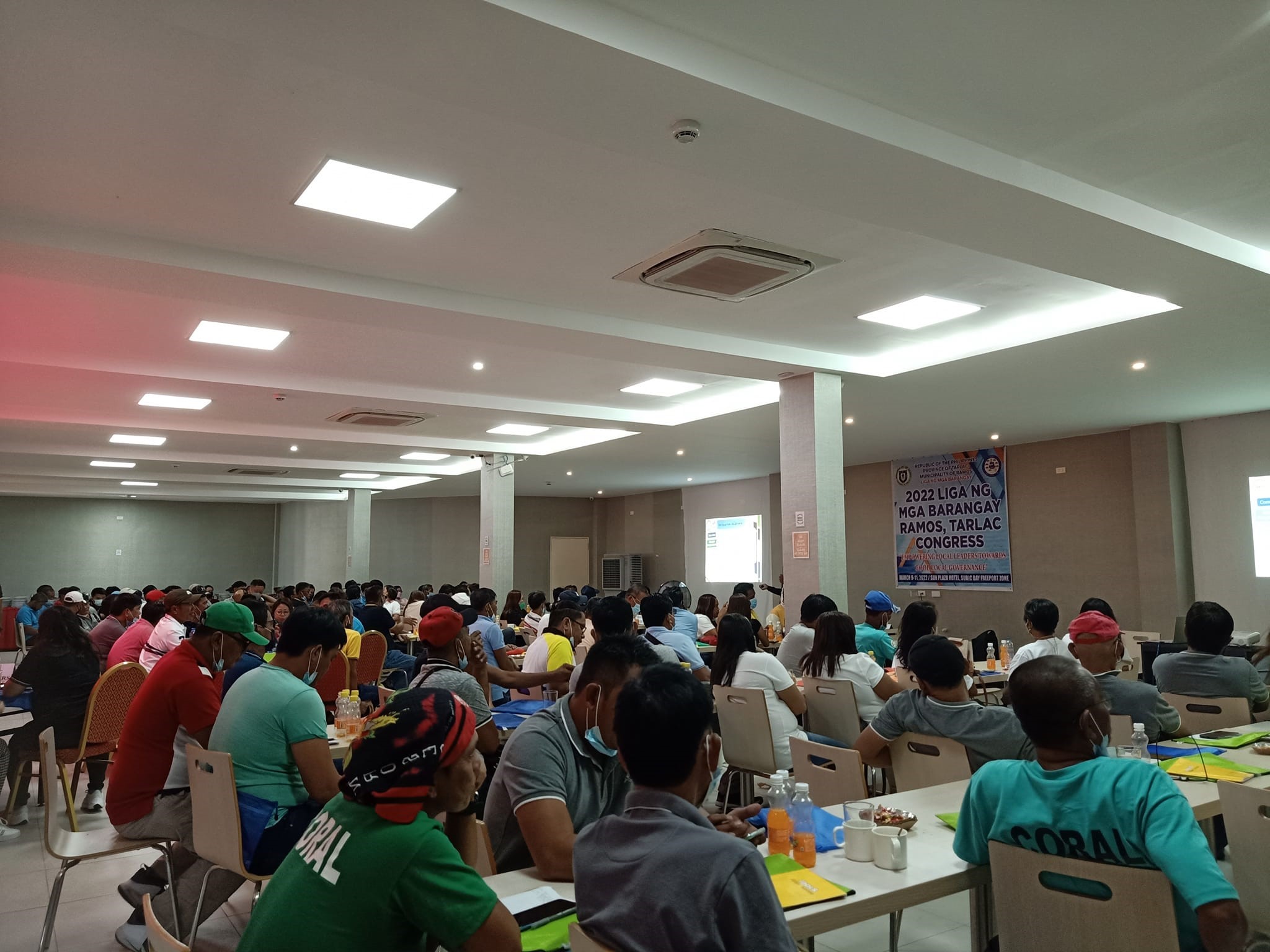 Barangay officials from the 9 barangays of the Municipality of Ramos, Tarlac successfully pulled through the various learning topics throughout their 3-day activity with their 2022 Liga ng mga Barangay Congress, held at Sun Plaza Hotel, Subic Bay Freeport Zone last March 9-11, 2022.
 This activity was conducted to orientate and refresh the participants on the functionality audits of different barangay-based assessments such as Barangay Peace and Order Council (BPOC), Lupon Tagapamayapa Incentives Awards (LTIA), Barangay Anti-Drug Abuse Council (BADAC), Seal of Good Local Governance for Barangays (SGLGB), and Violence Against Women (VAW) Desk.
Among the keynote speakers were DILG Central Luzon Regional Director Karl Caesar R. Rimando, and DILG Tarlac Provincial Director Belina T. Herman, both of whom delivered their inspirational messages during the opening program. Meanwhile, DILG Tarlac Cluster Team Leaders LGOO VII Fortunato M. Abraham, III and LGOO VI Renalyn D. Iglesias, DILG Tarlac Program Manager Romer T. Enaje, LGOO VI Rod Mark M. Salvador, and DILG Technical Staff LGOOs II Khaliza Mae A. Castro and Camille N. Transfiguracion served as resource speakers for the said activity.
Hon. Mayor Diosdado T. Reginaldo of Ramos, Tarlac also graced the activity with his presence and expressed his sincerest gratitude to LnB President Hon. Marlon E. Banag and the barangay officials for their continuous support and involvement in the effort of the municipal government in delivering the various projects and services for the constituents of their respective barangays.
Furthermore, LGOO VI Rod Mark M. Salvador, the Municipal Local Government Operations Officer of Ramos, Tarlac, reoriented the barangay participants about the significance of public accountability and the discussion of code of conduct and ethical standards for public servants. LGOO VI Salvador also presented the assessment results and status of each of the barangays to all barangay-based functionality audits conducted in previous years.
With the activity theme, "Empowering Local Leaders Towards Good Local Governance", this activity proved to be a fruitful and useful learning opportunity to the barangays of Ramos, Tarlac for at the end, the participants assured that they are one step more ready and more capable of achieving sustainable local development.