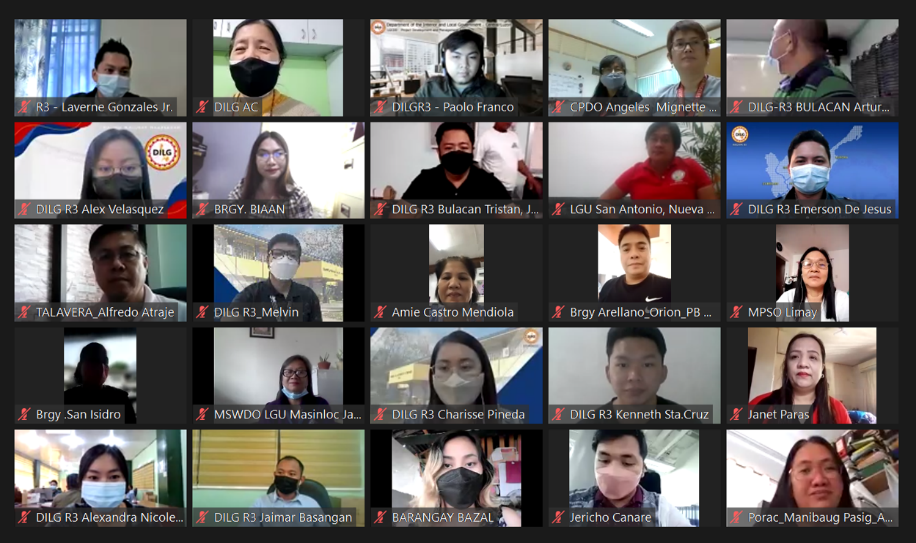 The Department of the Interior and Local Government Region III thru its Local Government Capability Development Division (LGCDD) conducted an online Capacity Development activity for Barangays under Retooled Community Support Program (RCSP) and Support to Barangay Development Program (SBDP) on Project Monitoring for Local Government Programs, Projects, and Activities on December 28, 2021.
 The activity aims to capacitate CSO members in conducting third party monitoring to become effective members of their respective Local Special Bodies. Likewise, the Department recognizes that the good governance is vital in pursuit of excellence in local public administration and development aside from developing the internal capacity of local governments.
In attendance were Barangay Officials of the RCSP/SBDP target barangays for FY 2022; and LGU Officials and CSOs representatives, DILG Regional Engineers, and DILG PDMS Team of Central Luzon.
At the beginning of the activity, LGCDD Division Chief, LGOO VII Ener P. Cambronero gave an opening remarks and called the webinar as an "Engineering for Non-Engineers" activity. Afterwards, Resource Speakers from the Project Development and Management Section (PDMS) Team led by PDMS Chief LGOO V Paolo Israel P. Franco, discussed the Basic Monitoring and Evaluation, followed by the Overview of Support to Barangay Development Plan (SBDP) Program, Detailed Engineering Design of Water Supply and Sanitation, Basics of DED for Vertical Structures, and Local Access Roads.
After the presentations, an open forum was conducted to address the questions and clarifications related to the topics. At the end of the activity, LGCDD Assistant Chief, LGOO VI Engr. Allen B. Pineda gave his closing remarks and thanked the resource speakers and participants for the fruitful half day activity. He hoped that the activity will result to better implementation and monitoring not only on SBDP Projects but to all LGSF Projects in the future.