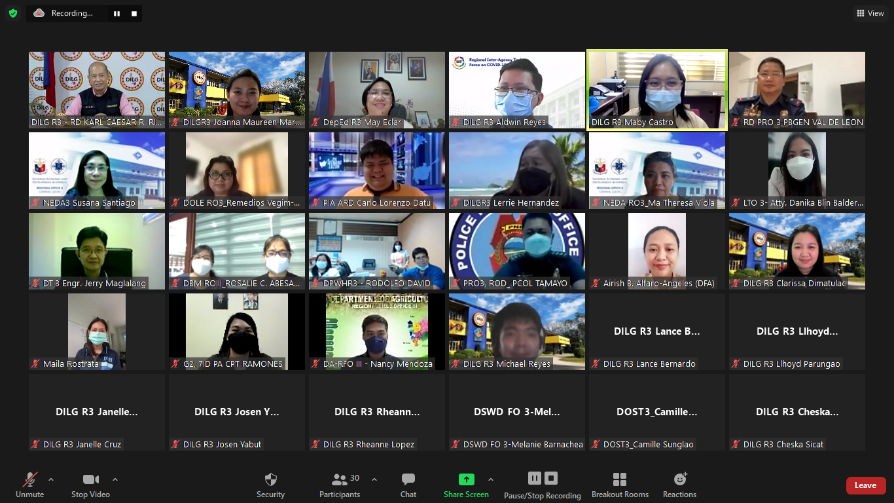 The Central Luzon Regional Inter-Agency Task Force on COVID-19 (RIATF) convened on October 12, 2021 to apprise all the members with new policies and updates on COVID-19 response via Zoom platform
 In his message, DILG Regional Director Karl Caesar Rimando, RIATF Chairperson, expressed his gratitude to the RIATF members for their unwavering support to the undertakings of the body. He also reminded them to continue the observation of DOH's BIDA protocol. He said that meetings will be called, following the issuance of policies by the national government, for the information and implementation of the body.
Local Government Operations Officer VI Aldwin B. Reyes, Assistant Division Chief, Local Government Monitoring and Evaluation Division of DILG R-3, discussed the salient provisions of the Inter-Agency Task Force for the Management of Emerging Infectious Diseases (IATF-MEID) Resolution No. 142 which pertains to the relaxed quarantine protocols for close contacts and arriving international passengers. Said resolution was duly adopted by the body.
Dr. Maila Rostrata of the Central Luzon Center for Health Development provided updates on the COVID-19 cases in the region to include the number of recovered cases, number of deaths, and number of active cases. She also presented the two-week growth rate, average daily attack rate (ADAR), and epidemic risk level per province. Dr. Rostrata also provided COVID-19 vaccination updates.
This activity is in line with the national government agencies (NGAs) shared goal of effective and efficient COVID-19 response in Central Luzon.