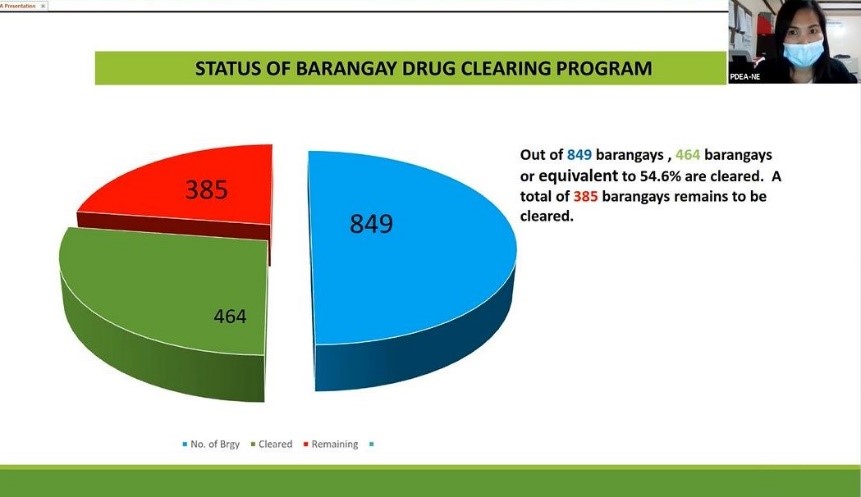 The Provincial Peace and Order Council (PPOC), Provincial Task Force to End Local Communist Armed Conflict (PTF-ELCAC), Provincial Anti-Drug Abuse Council (PADAC), Provincial Disaster Risk Reduction and Management Council (PDRRMC), and Provincial Food Council (PFC) successfully conducted its 1st Quarter Joint Meeting of the Local Special Bodies of the Province of Nueva Ecija on March 26, 2021 via Zoom Platform.
 Governor Aurelio M. Umali, as the chairperson of the various councils, presided over the meeting. Topics discussed were the Peace and Order and Public Safety Situation; Internal Security Operations update; Retooled Community Support Program (RCSP) implementation status in Nueva Ecija; Drug Clearing Status; COVID-19 Vaccinations update; plans, programs, and initiatives of the PDRRMC; Amendment of PDRRM Plan; and updates on Palay buying operations, operational challenges, and policy directions.
One of the highlights of the meeting was the presentation of Dr. Josefina Garcia from Provincial Health Office, on the COVID-19 Vaccinations update and vaccine distribution.
In closing, members of the council encouraged to strengthen their support and commitments in the implementation on plans on COVID-19 response and control and in maintaining peace and order situation in the province.
The teleconference meeting was attended by regular members of the councils including the different Provincial Department Heads, National Government Agencies (NGAs) and the accredited Civil Society Organizations (CSOs) in the Province of Nueva Ecija.