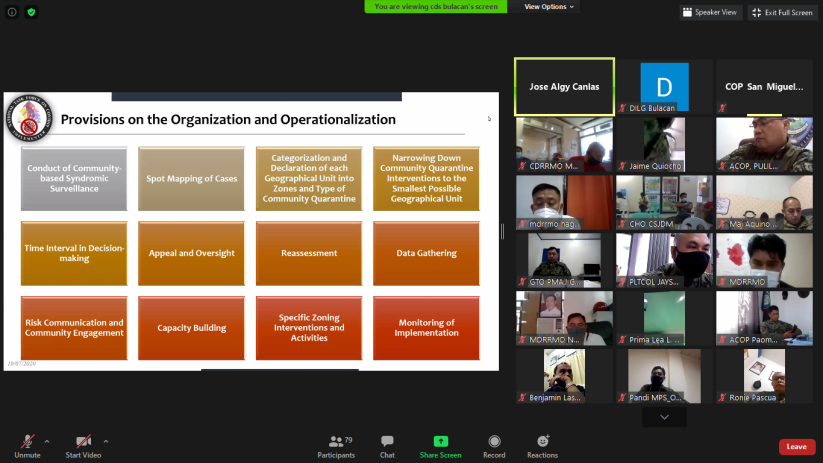 The implementation of the community quarantines is one of the primary strategies of the National Government to control the spread of COVID-19. Parameters and guidelines were set by the National Task Force (NTF) to be adopted by the local government units (LGUs). However, in order to boost the country's economy despite the pandemic, relevant establishments were allowed to operate.
Since the LGUs have direct and first-hand knowledge on the situation in their localities, the NTF released an Operational Guidelines on the Application of the Zoning Containment Strategy in the Localization of the National Action Plan Against COVID-19 Response. Through the Zoning Containment Strategy, focused areas are identified for the implementation of varying levels of quarantine, depending on the risk and stage of transmission prevalent in the area.
Thus, to have a unified understanding on this matter, DILG-Bulacan, in coordination with the Provincial Government of Bulacan, conducted an Orientation on the said Operational Guidelines on July 10, 2020 via video conference. Participants were the Local Health Officers, Local Disaster Risk Reduction and Management Officers, and Chiefs of Police in all component Cities and Municipalities in the Province.
To date, there are three barangays or zones in the Province of Bulacan which declared localized zoning containment. These are Barangays Panginay in the Municipality of Balagtas (June 25-July 3), Peñabatan and Balatong A in the Municipality of Pulilan (July 1-15) and Maria Magdalena Subdivision in San Juan, Balagtas (July 9-17).