Details

Written by

Info Unit

Category: NEWS AND EVENTS
Hits: 402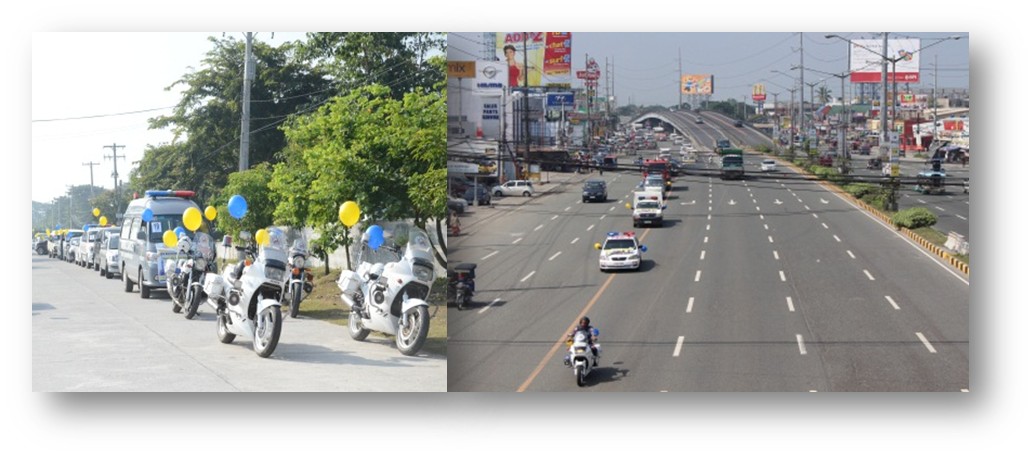 DILG Region 3 in celebration of the 23rd Anniversary of the Local Government Code with the theme "Ang LGUng Magaling, May Nararating", started the month of October with a blast! The Department conducted a Motorcade for Good Governance on October 1, 2014 which ran across the national and city roads of the City of San Fernando, Pampanga.
   The motorcade with 62 registered vehicles was participated in by representatives from the different National Government Agencies, local media and Local Government Units in Pampanga, Zambales and Cities of Angeles and Olongapo. A similar activity will be conducted by all provinces in Central Luzon.
Details

Written by

Information Unit

Category: NEWS AND EVENTS
Hits: 436

The Department of the Interior and Local Government Region III together with all the members of the DILG Family in the region namely: Police Regional Office, National Police Commission, Bureau of Jail Management and Penology, Bureau of Fire Protection and Philippine Public Safety College hosted the Unified Flag Raising Ceremony on March 17, 2014 at DSWD Regional Office.
The activity aims to increase the unity and camaraderie among all National Government Agencies (NGAs) in Central Luzon. It also serves as a venue to update all employees on the different undertakings of the various NGAs in the region.
The Regional Directors of the DILG Family led by DILG RD Florida Dijan, PRO III CSupt. Raul Petrasanta, BFP CSupt. Ariel Barayuga, BJMP SSupt. Arnulfo Obias, PPSC-RTS Supt. Rodel Pastor represented by Supt. Aquino and Napolcom RD Manuel Pontanal represented by his Division Chief expressed their gratitude to all agencies' officers and staff who took time to participate in the activity. The messages delivered by the Regional Directors focused on Fire Prevention and Women's Month since these are the two important celebrations in the month of March.
At the end of the activity, BFP led a fire simulation drill witnessed by all the employees who participated in the flag ceremony.

Details

Written by

P.O. III Miriam Gaviola

Category: NEWS AND EVENTS
Hits: 427
The Department of the Interio

r and Local Government Region III has presented its proposed budget for FY 2015 to representatives of Civil Society Organizations (CSOs) and Chiefs of Staff (COS) of Congressmen on March 10 and March 13, 2014, respectively.
The presentation of the different line agencies' budget proposal to CSOs and COS aims to further promote the Aquino Administration's commitment to intensify and institutionalize greater transparency, accountability and citizens' participation in governance.