Details

Written by

DILG Angeles City

Category: DILG Angeles City Latest Events
Hits: 478
   One of the major programs of the Department of the Interior and Local Government is the Lupon Tagapamaya Incentives Awards (LTIA). As part of this program, the newly assigned OIC-City Director Belina T. Herman convened the City Awards Committee on February 12, 2015 at DILG, Angeles City Office. The meeting was attended by PNP representative PSI Antonio S. Lim, Jr., City Prosecutor Atty Oliver Garcia, PPCRP Chairman Noel Sibal, representative of the Liga ng Mga Barangay Office Myrna P. De Leon and the five (5) barangay secretaries as nominees to the LTIA.
Details

Category: DILG Angeles City Latest Events
Hits: 986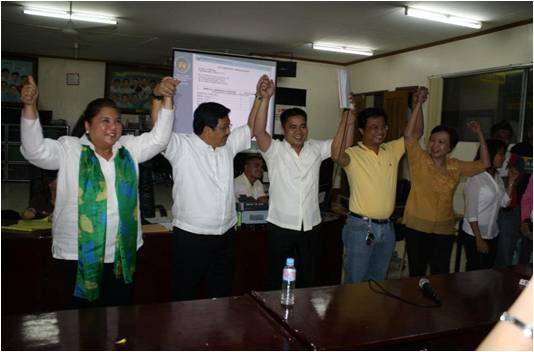 The City Board of Canvassers led by Atty. Numer P. Lobo, Comelec Registrar, Vice Chairman Atty. Oliver Garcia, City DepEd proclaimed incumbent City Mayor Edgardo D. Pamintuan and Vice Mayor Ma. Vicenta Vega Cabigting as winners together with the other Sangguniang Panlungsod Members, Jericho Aguas, Arvin Suller, Bryan Matthew Nepomuceno, Danica Lacson, Maricel Morales, Edu Pamintuan, Alex Indiongco, Carmelo Lazatin, Jr. Maximo Sangil and Amos Rivera.
The proclamation was held at around 3:30 AM, May 14, 2013 and witnessed by City Director Remedios M. Rodriguez, other DILG Staff, Media, Private Sectors and other Volunteers. Mayor Pamintuan thanked the Lord for having a peaceful election and all his supporters, Meanwhile, Congressman Carmelo Lazatin announced through GV. FM that he is conceding. " Ang mamayan ay nagsalita na dapat sundin natin" he said. He congratulates Mayor Pamintuan and all other winners He also thanked all his supporters. According to him after his term as congressman he will go back to his private life and he will concentrate on his business and will not comment or criticize the governance of Pamintuan.
Details

Written by

Angeles City CIO Kevin Montalbo

Category: DILG Angeles City Latest Events
Hits: 882

"We are convinced that Mayor Edgardo Pamintuan is doing an incredible job in fulfilling his health programs for his constituents and this is the reason why World Medical Relief Inc., (WMRI) continues to prioritize Angeles City among its recipients…"
This was the statement given by George Samson, Chief Executive Officer of WMRI who has pledged his support to Angeles City and its major health endeavors.
Since 1992, WMRI has been a partner of Angeles, particularly with Mayor Ed Pamintuan and his unwavering aspiration to provide affordable medical service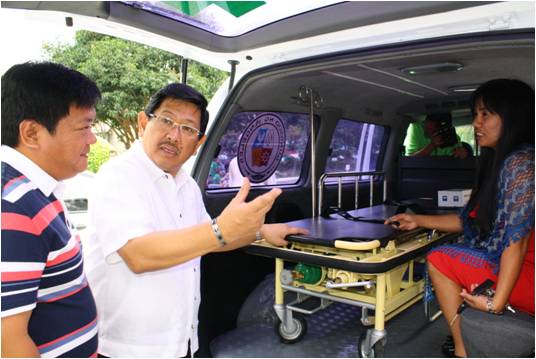 s thru the then Angeles City General Hospital. This was seen as an imperative mission in that year as Angeles was trying to recover from the devastation brought forth by the eruption of Mount Pinatubo.
Fast forward to 2011, Samson's ties with the Mayor allowed the city to construct its very own Renal Care Unit (RCU) and provide over 300 dialysis treatments to Angeleños every month since June.  The said RCU currently caters to the poorest of the poor, giving discounts up to 75% for patients who can't afford to pay the expensive treatments given in other private hospitals.
Seeing the staunch efforts of the local city government and Mayor Ed Pamintuan in boosting health care services in the city, several non-government organizations and private businesses in the city have pledged their support to the local government, especially in its battle for affordable and quality health care. Since its inception, the Renal Care Unit has already acquired dialysis equipment from such donors. In fact, this February, the local government just received a brand new dialysis machine and an ambulance from a certain hotel to even further its efforts in providing this service to the city's constituents.
"This is a milestone achievement of our administration and a dream fulfilled for Angeleños who wish to have a sigh of relief from the expenses incurred by weekly dialysis treatments," says Mayor Pamintuan.
Currently, the Angeles City Renal Care Unit, located at the Rafael Lazatin Memorial Medical Center compound, boasts of its 19 dialysis machines and is now capable of providing over 400 treatments to several patients (both from Angeles and even nearby towns & municipalities) every month.
The construction of this dialysis center with its initial 15 machines is an unprecedented achievement and development in local governance and public health interest. This inspired Mayor Pamintuan to propose a resolution to several national government agencies and GOCCs to set aside 5% of their annual national operating budget for the establishment and operation of Renal Care Units or Centers in all cities of the country.
During the League of Cities of the Philippine's (LCP's) 47th Nati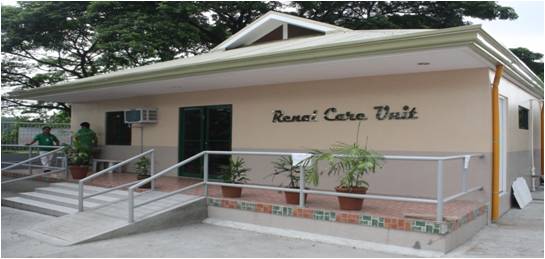 onal Executive Board meeting in Laoag City, the said resolution was approved after Pamintuan shared the experience of Angeles City in operating its own dialysis center and how much this has made a difference in the lives and families of the more than 100 patients who are undergoing and benefiting from the city government's health program.
Many have been skeptical at first, saying that the administration's move to establish a dialysis center will most definitely sap the resources of the local government. However, because of the tremendous outpour of support from various organizations, businesses & private groups, and the trust of the people given to Mayor Pamintuan, the Renal Care Unit holds strong today, ultimately allowing Angeles City to become a catalyst for proper and affordable public health care all throughout the country.