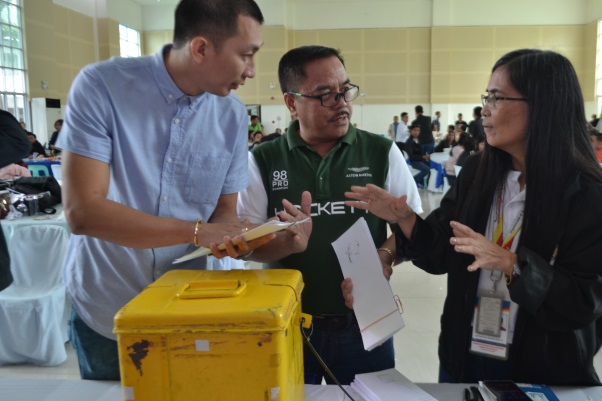 City of Malolos, Bulacan – The Philippine Councilor's League Bulacan Chapter conducted the Provincial Federation Election last August 2, 2019 at Hiyas Ng Bulacan Convention Center, City of Malolos, Bulacan. The activity is in accordance to Memorandum Circular No. 2019-103 issued by the Department of the Interior and Local Government on creating the guidelines every Local Government Units should observe in conducting the election.
The PCL Provincial Federation Commission on Elections is composed of the DILG Bulacan Provincial Director Darwin D. David as Chairman; Marie Claudette Q. Serrano, interim PCL Bulacan President; and Ma. Perpetua R. Santos, Sanggunian Panlalawigan Secretary, as Members. Two parties have filed their candidacy in the Province of Bulacan – Hon. Enrique "Buko" V. Dela Cruz, led the Green team and Hon. William "WRV" R. Villaria, the new PCL President, on the Red team – both desiring to create unity among the Bulacan councilors and to expand their skills in leadership through different workshop and seminar.
Atty. Buko, in Team Green, was supported by Oya Mendoza for Vice President, Shiela Enriquez for Secretary, Emil Magtalas for Treasurer, Tony Patawaran for PRO, Kenneth Bautista for Business Manager, and the Board of Directors are Poncho Arcega, Richie Dela Cruz, Kaye Martinez, Anel Quinones, Vanessa Roquero, and Eva Villanueva. The winning Red Team is composed by JR Manlapaz, Vice President-elect, Ynah Castro, Secretary-elect, Arnold Mendoza, Treasurer-elect, Al Estrella, Auditor-elect, Gino Torres, PRO-elect, and Niño Carlo Bautista, Business Manager-elect. The Board of Directors who won were also from the Red Team, they are Peter Alvin Violago, Cathy Abacan, Jerome Reyes, Cris Castro, Bino Cruz, Jayvie Manalo, Glenn Villano and Ding Valeda.
PD Darwin David finally reminded all the 245 councilors who have participated in the election that obtaining a position in PCL Provincial Federation is an avenue to propagate best practice in good and transparent governance to the provincial constituents. Finally, PCL National Auditor Rovin Andrew M. Feliciano commended the DILG Bulacan in leading a peaceful and organized election in the province.