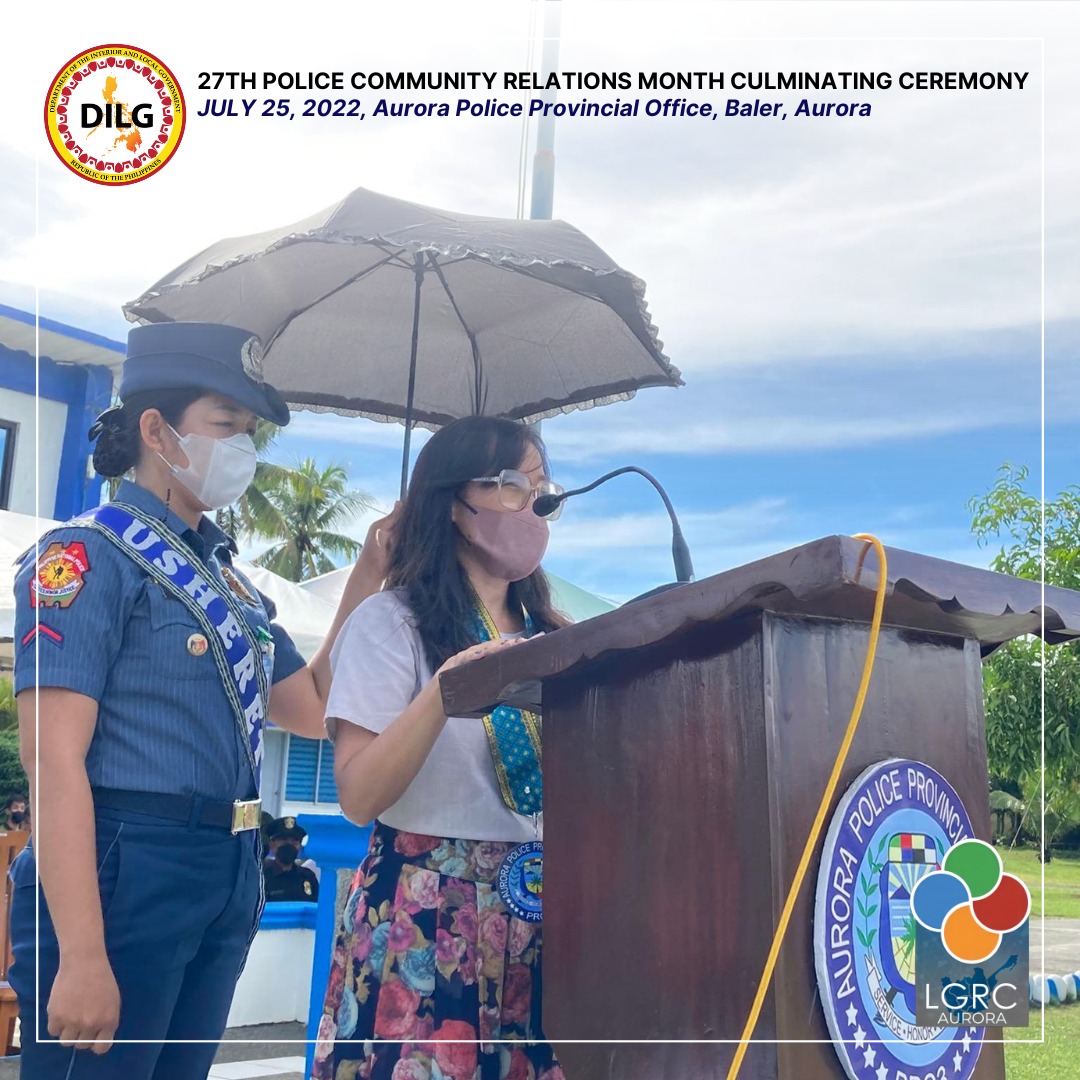 "Masasabi natin na tunay ninyong naipapamalas ang brand of public service ng isang DILG. Ito ay ang serbisyo publiko na Matino, Mahusay at Maaasahan. Ang brand of public service na "Matino, Mahusay at Maaasahan" ang kailangan natin upang maabot ang isang payapa, maunlad at mapagkalingang pamahalaan. Kami po na mga kapatid ninyo sa DILG at katuwang sa serbisyo publiko, ay patuloy na susuporta sa inyong mga programa at gawain towards the achievement of our mission to promote peace and order, ensure public safety through active people participation."
-Dir. Ener P. Cambronero, CESE
(through LGOO VI Mary Joyce T. Bautista)
The DILG Aurora headed by Dir. Ener P. Cambronero, CESE, represented by LGOO VI Mary Joyce T. Bautista, Program Manager, joins the Aurora Police Provincial Office, under the leadership of PCOL JULIO S. LIZARDO, Provincial Director, and the whole nation, in the observance of the 27TH POLICE COMMUNITY RELATIONS MONTH CULMINATING CEREMONY held at Camp Ravina, Brgy. Sabang, Baler, Aurora on July 25, 2022.
The culminating activity of the PCR Month with the theme "Ugnayang Pulisya at Komunidad Tungo sa Mapayapa, Maayos at Maunlad na Komunidad", served as platform for the recognition of the active support of various units of Aurora PPO, partner agencies and organizations and Advocacy Support Groups in PNP's mission to enforce the law, to prevent and control crimes, to maintain peace and order, and to ensure public safety and internal security.
The presentation of plaques and certificates to meritorious employees, units, agencies, and stakeholders for their support and exceptional performance in the field of police community relations is the event's high point.
The PCR Month celebration is a good opportunity to increase community involvement in crime prevention. It also strengthens community support for the Philippine National Police's peacekeeping and public safety initiatives.
Representing the Provincial Director, LGOO VI Bautista delivered the message of Dir. Cambronero and served as the Guest of Honor and Resource Person for the culminating activity.
In his message, PD Cambronero commended PCol Julio S. Lizardo, APPO Provincial Director, and the other PNP Officers for their dedication and commitment to fostering the relationship between the police and the community through programs and related actions, which led to a decline in crime incidents in the province.
"Foremost, we would like to express our gratitude to the PNP for inviting us to the Culminating Ceremony of the 27th Police Community Relations Month. We would also like to congratulate the PPO of Aurora on this celebration of the PCR month which is indeed a very laudable undertaking."
"This year's theme "Ugnayang Pulisya at Komunidad tungo sa Mapayapa, Maayos, at Maunlad na Pamayanan" could not be more appropriate and fitting since the good relationship between the community and our law enforcement agencies is a key ingredient in realizing a peaceful, orderly and progressive community."
"But we know that the PNP is working tirelessly, not only during the PCR Month, but all the month, week and days of the year to engage the community to become active partners in crime prevention and solution."
"We, at the DILG, recognize the PNP as one the key players in the realization of our shared goal of having a community where people can live safely and happily."
PM Bautista received the Certificate of Appreciation for the Department's unyielding support and for being a constant partner of the PNP organization in delivering its mandate that led to the realization of mutual trust making the Aurora Province peaceful and safe to live and do business.