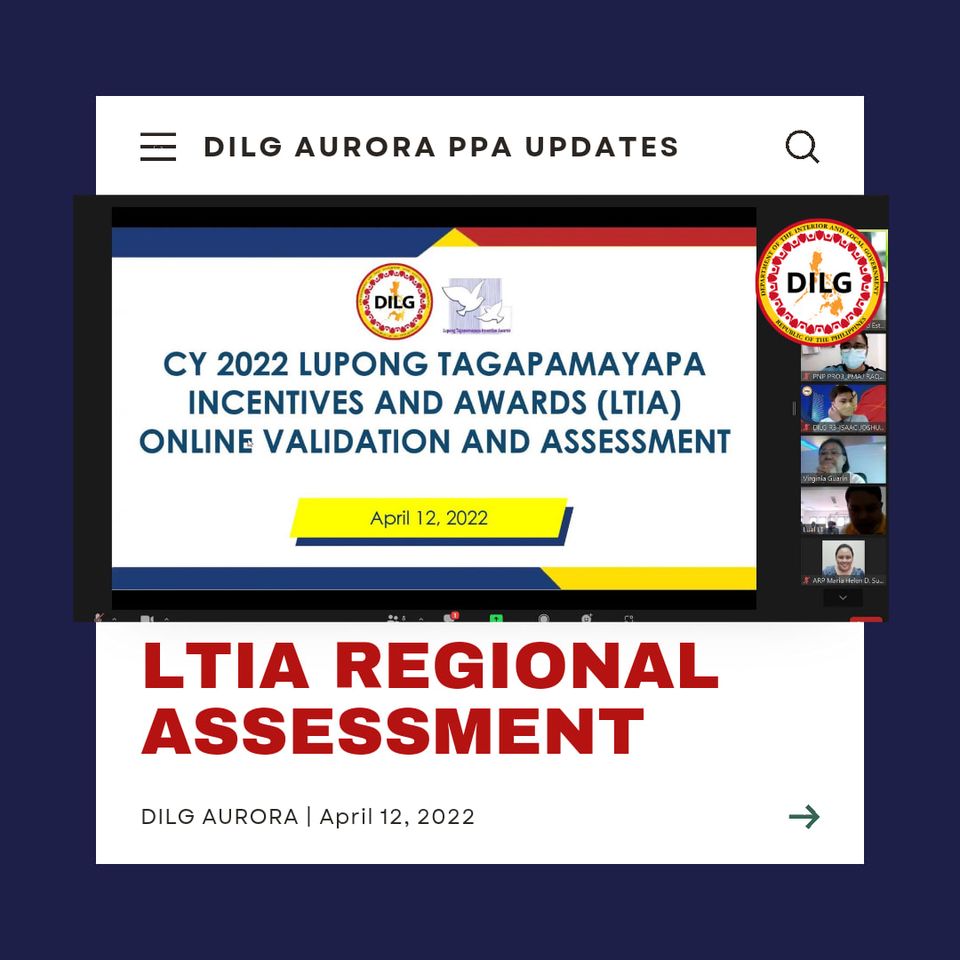 DILG 3 Regional Assessment Team assesses Barangay LUAL Lupong Tagapamayapa as they are vying for the 2022 Lupong Tagapamayapa Incentives Award (LTIA) on April 12, 2022 via Zoom Video Teleconferencing Platform.
The online assessment revisited the submitted LTIA documents of Brgy. Lual and focused on the following criteria: Efficiency in operations, Effectiveness in securing the settlement of interpersonal dispute objective of the KP program, Creativity and resourcefulness of the Lupong Tagapamayapa, Area or facility for KP activities, and Financial or non-financial support for KP.
The LTIA is an annual search that honors excellent Lupong Tagapamayapa who have demonstrated the ability to settle matters brought to them intelligently and swiftly, as well as exemplary performance and notable contributions to the Katarungang Pambarangay (KP).
It also aims to strengthen the KP as a grassroots indigenous conflict resolution structure, institutionalize a system of providing economic benefits and other incentives to Lupons, and raise awareness of the KP as a powerful vehicle for social order and human development among various sectors of Philippine society, as well as garner support from them.
The activity was conducted by the members of the Regional Assessment Committee composed of representatives from DILG Region 3 represented by Mr. Renzo Miranda and LGOO IV Isaac Joshua Micabali, DILG Aurora LTIA Focal Team, DILG Casiguran MLGOO Jesus L. Vizconde, Lupong Tagapamayapa of Lual, Casiguran , Asst Regional Prosecutor Maria Helen Surla - DOJ 3, PMAJ Raquel M Pagnas - PNP PRO3, and Viriginia Guarin - APC FDM (NGO).