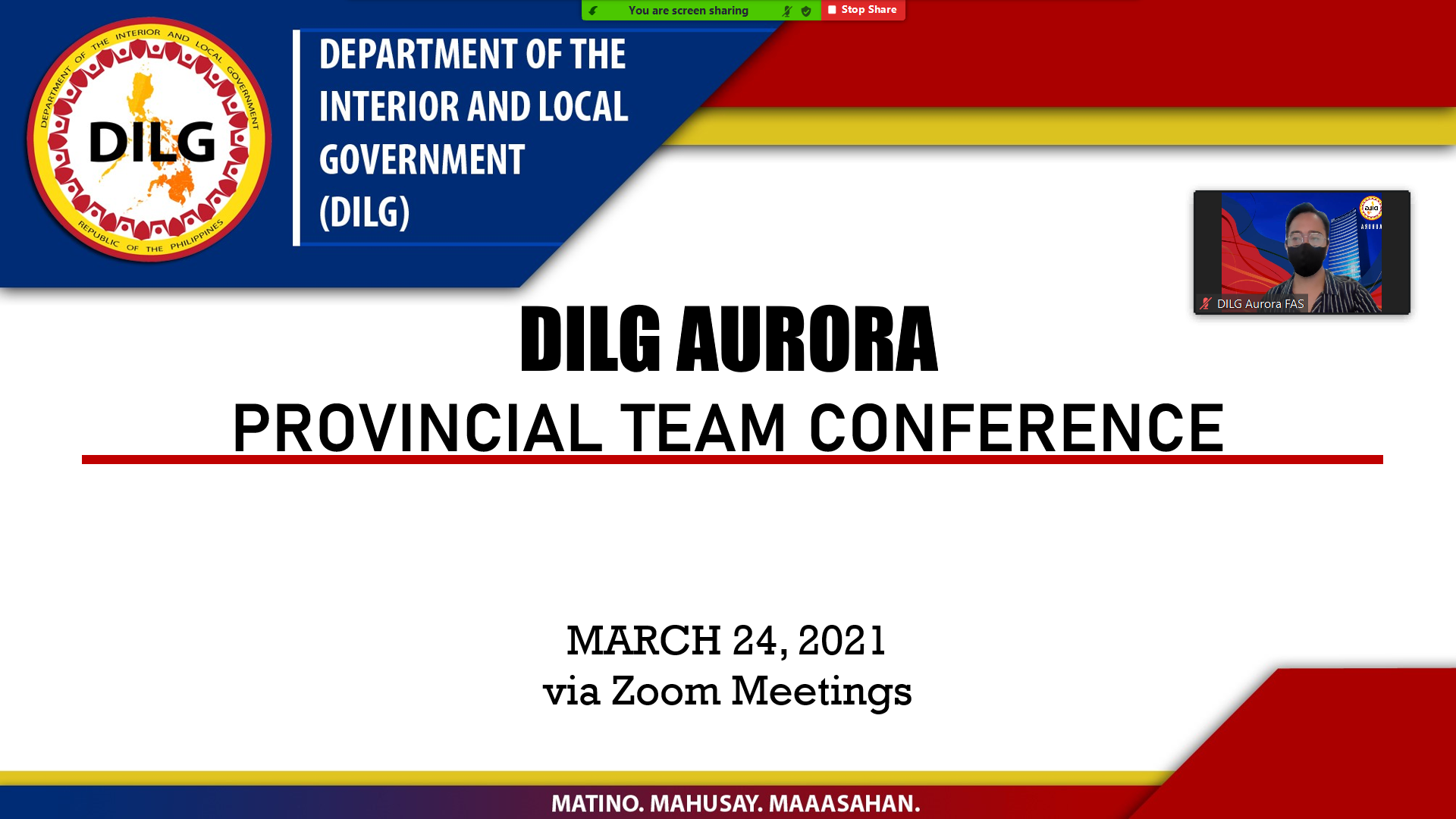 DILG Aurora Provincial Team Conference, March 24, 2021
Giving highlights on the Department's approach towards a strengthened internal communication and to continue in institutionalizing the Department's cooperation and support to the clienteles in this time of pandemic, the DILG Aurora Provincial Office, headed by Atty. Ofelio A. Tactac, Jr. CESO V, held the Provincial Online Team Conference for the month of March through Zoom Meetings on March 24, 2021.
Said conference was graced by the presence of DILG Region III Regional Director, Dir. Julie J. Daquioag, Ph. D., CESO III.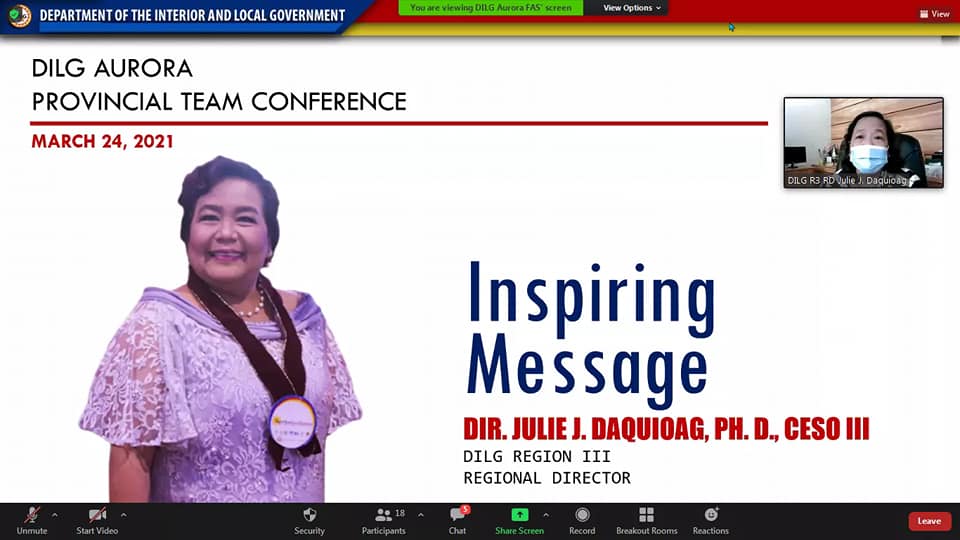 "When everything else fail, God will always be there! Let's continue being a Matino, Mahusay and Maasahan Department that instills cooperation and mutual support. Mabuhay tayong lahat and let's heal as one."
Status of monthly, weekly and daily report submissions were deliberated by LGOO V Florenz Zaira Buenconsejo.
The Status of Compliance to Full Disclosure Policy Portal Posting, Status on the Barangay FDP Posting for the 1st Quarter 2021 and the Status of 2021 GAD Plan and Budget Submission and Endorsement and Roll-out of the LTIA Information System were discussed by GAD and FDPP Focal Person LGOO V Rossella P. Edillor.
LGOO VI / Program Manager Mary Joyce T. Bautista gave a briefing to the MLGOOs on the submission of Accomplishment Report through the LGAMES.
CTL Dennis Daquiz discussed matters on the conduct of ROLL-OUT OF THE BHERT FRIENDS PROJECT ONLINE WEBINAR SERIES (OWS) EPISODES 1 AND 2 TITLED: "ENGAGING BHERTS FOR A SAFER COMMUNITY" AND "BHERTS IN ACTION: SAFEGUARDING THE COMMUNITY".
Atty. Tactac, along with the Section Chiefs reminded the staff on the different schedules of reporting, explained the monitoring systems to have one and same understanding, and directed to maintain an open coordination and be available on urgent matters or as need arises.
The video conference was held to ensure the continued delivery and accomplishment of the assigned tasks and responsibilities of each personnel. The PO also provided guidance on the issues and concerns regarding the government's response on the COVID-19 pandemic.
The Zoom Cloud meetings shall also be used from time to time to conduct meetings and to closely coordinate with field personnel to ensure the continuous monitoring and compliance of all Local Government Units to pertinent reports and other deliverables.