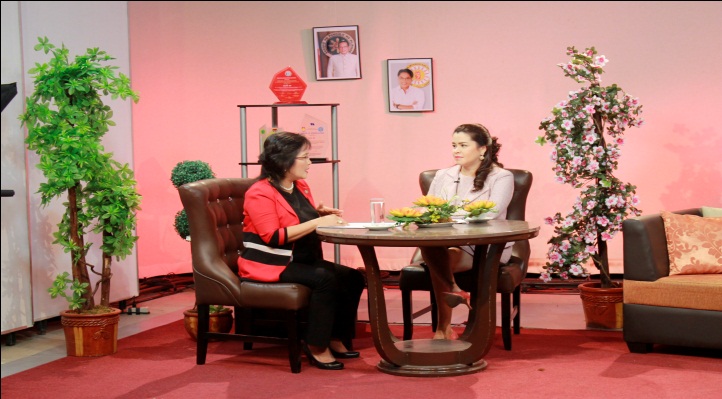 RD Florida M. Dijan discusses DILG Major Programs with CLTV 36's program – "Ur'Gov @ Work in Central Luzon" hosted by Angeles City Councilor Maricel Morales
     The Department of the Interior and Local Government (DILG) R-3 Regional Director Florida M. Dijan, appeared on CLTV 36's program - "Ur'Gov @ Work in Central Luzon" last December 22, 2014. RD discussed what programs the agency has been implementing particularly Bottom-Up Budgeting, capability building for LGUs, disaster preparedness, and peace and order.
   RD Dijan gave a detailed background on what the Bottom-Up Budgeting program is all about. She informed the TV audience that its implementation started on 2014 with 52 recipient LGUs in Central Luzon. She added that this coming 2015, all of the 130 cities and municipalities in the region will be receiving a minimum of 12.5M each for poverty reduction projects which are determined jointly by the basic sectors and their LGU counterparts.
Furthermore, RD Dijan stated that all BUB poverty reduction projects are monitored with pictures/images being uploaded to the Programs and Projects Monitoring System (PPMS) website. This is being done so the public will be aware of the progress of the project.
   On disaster preparedness, RD Dijan said that the DILG led the activation of the Local Disaster Risk Reduction Management Council (LDRRMC) in every Local Government Unit to ensure that everybody is prepared in case a calamity will hit Central Luzon.
   On peace and order concerns, when asked how will PNP regain the trust of the people considering the controversies besetting them, RD replied "The media still has the power to inform the people; It is really sad that only these bad news are all coming out and that most of our policemen are doing their best in protecting our people and our country. So I think the community should also realize that they can still trust our PNP."
   Giving a glimpse on what to look ahead on 2015, the DILG R-3 plans for the continuous monitoring of the completion of remaining DILG special projects namely: Bottom-Up Budgeting (BUB), SalinTubig (Sagana at Ligtas na Tubig para sa lahat), Performance Challenge Fund (PCF), Special Local Roads Fund (SLRF). The department will also conduct the Launching and MOA Signing for Ugnayan ng Barangay at Simbahan (UBAS) with the Archdiocese of San Fernando (P) to cover Pampanga, Tarlac, Zambales and Bataan, and conduct the remaining orientation for Pampanga, Zambales and Olongapo City on the Comprehensive Local Intergration Program (CLIP).
   At the end of the interview, RD Dijan thanked the anchor person SP Member of Angeles City, Hon. Maricel Morales and the televiewers for the continuous support to government programs and wished them Happy Holidays.