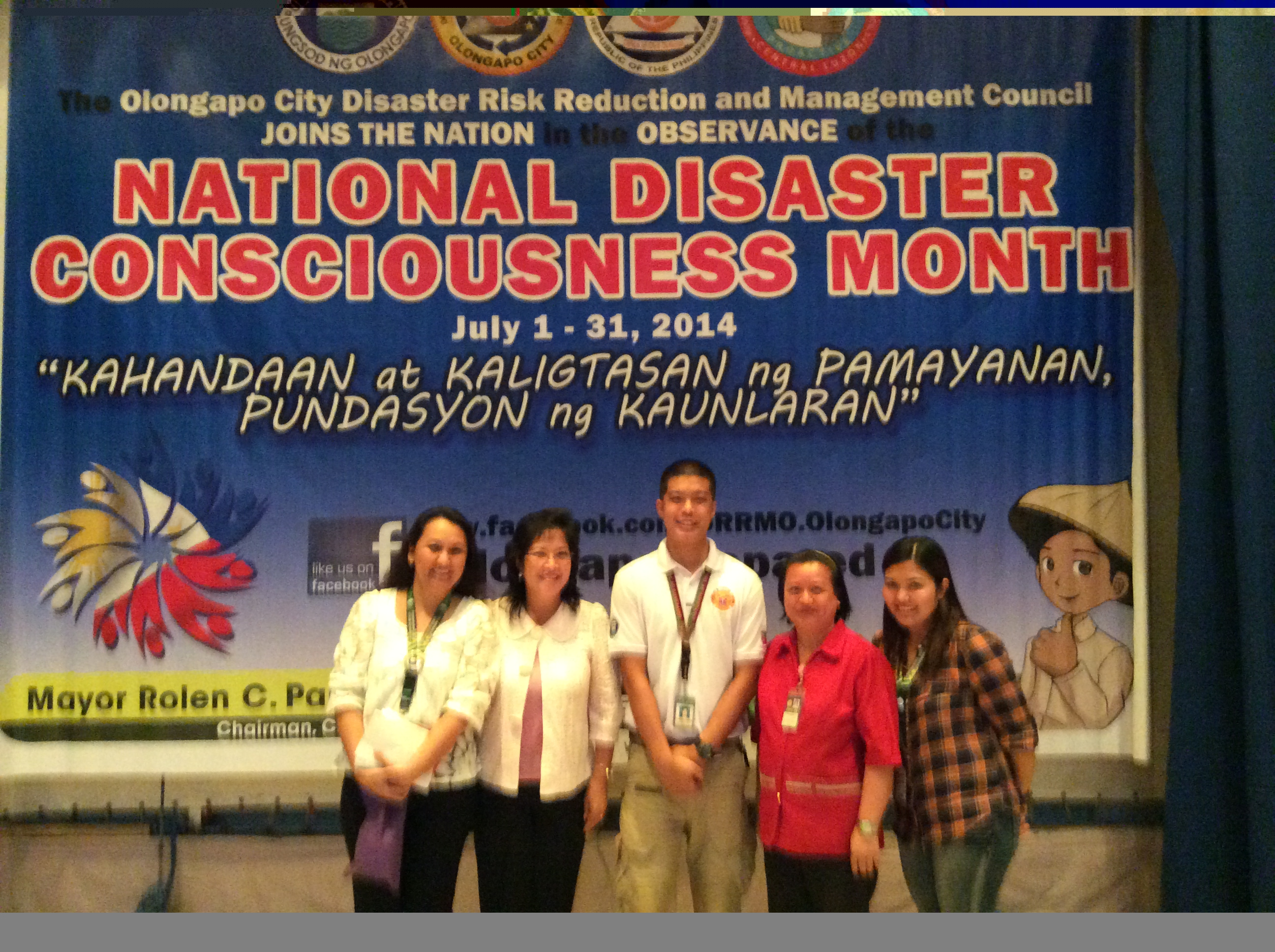 Dir. Florida M. Dijangraced the culminating activity of the month-long observance of the National Disaster Consciousness Month in Olongapo City dubbed as "Be An 'Informed Volunteer' Disaster Fair and Symposium" on July 28, 2014 at the Olongapo Convention Center.
RD Dijan's high-spirited delivery of her message during the closing ceremony captured the interest of the participants. She encouraged everyone to be involved in the disaster preparedness efforts of the government.
Hon. Aquilino "Jong" Cortez, Sangguniang Panlungsod Member, represented City Mayor Rolen C. Paulino who happened to be attending an equally important commitment on that day. Vice Mayor Rodel Cerezo also graced the occasion.
Prior to the actual symposium, an Awarding Ceremony for the Poster-Making (Elementary and High School Categories) and Essay Writing (High School Level) Contests was held.
The resource persons during the symposium were Dir. Renato Sulidum, Jr., of DOST-PHIVOLCS, Dir. Josefina Timoteo of OCD Region 3, Mr. Angelito Layug, DRRMO of Olongapo City, Mr. Rommel Yutuc of DOST-PAGASA, Ms. Clarissa Villanueva of DENR-MGB Region 3, and Mr. Oscar Victor Lizardo of DOST Project NOAH.
During the presentation of Dir. Solidum he brought to test the preparedness of the participants on earthquake. A very basic drill on "Duck, Cover, Hold" was done signaled by the whistling of Dir. Solidum.
Punong Barangay Jerome Michael Bacayand Kagawad Jahnke of Barangay Sta. Rita, Olongapo City, presented their best practices in terms of disaster preparedness and rescue operations. Barangay Sta. Rita is a Gawad Kalasag Hall of Fame Awardee.
Participants during the symposium were members of the CDRRMC of Olongapo City, students and teachers from different schools in the city, barangay officials, City and Barangay Rescue and Emergency Response Teams, representatives of the Civil Society Organizations, and DRRMOs of other LGUs in Region III.
Another component of the culminating activity was the Disaster Fair. Olongapo City DRRMO, Barangay Sta. Rita, Philippine Red Cross-Olongapo, City of San Fernando, Pampanga, and Junna Industrial Corporation, supplier of rescue, defense, and security equipment, displayed their different equipment, tools, and paraphernalia used in rescue, clearing and other disaster-related operations.
Also displayed during the fair were the works of art of participating elementary and high schools students in the Poster-Making Contest conducted by the City Government of Olongapo, through the DRRMO, in partnership with DepEd, on July 1, 2014 at the Olongapo Convention Center. Students were made to draw their interpretations of this year's theme, "Kahandaan at Kaligtasan ng Pamayanan, Pundasyon ng Kaunlaran".