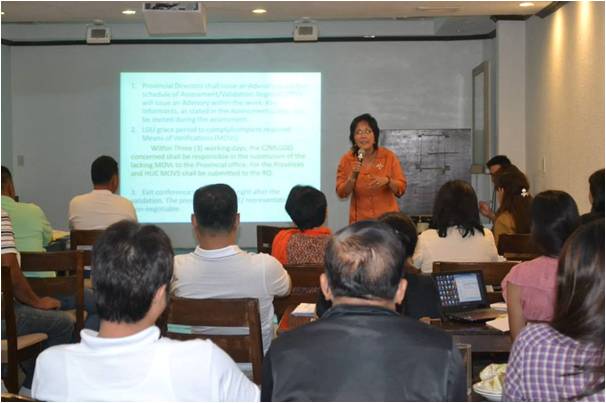 Committed to ensure the integrity and credibility of the implementation of the Local Governance Performance Management System - Seal of Good Local Governance (LGPMS-SGLG), the Department of the Interior and Local Government (DILG) Region 3 thru the LG Monitoring and Evaluation Division conducted an Orientation/Briefing on LGPMS-SGLG last May 5, 2014 at the Royal Hotel, Angeles City.
Attended by the Regional Assessment Team and Sub-Regional Assessment Teams composing of the DILG Cluster Team Leaders, Provincial Technical Staff, LGPMS-SGLG Provincial Focal Persons and representatives of partner CSOs, the activity was aimed to orient the participants on their roles on the assessment process, the criteria/indicators and the timelines of the assessment.
The SGLG is the transition from the Seal of Good Housekeeping (SGH) which was implemented from 2010 to 2012. It has now Six (6) performance dimensions divided into two categories: the first three dimensions to be assessed are non-negotiable Core Assessment Areas which include the LGU performance on good housekeeping standards, disaster preparedness and social protection; and the other three dimensions are the Essential Assessment Areas or the LGU performance on business friendliness and competitiveness, environment management and peace and order.
The DILG will recognize and incentivize provincial, city, and municipal governments that respond to the challenge of the SGLG.