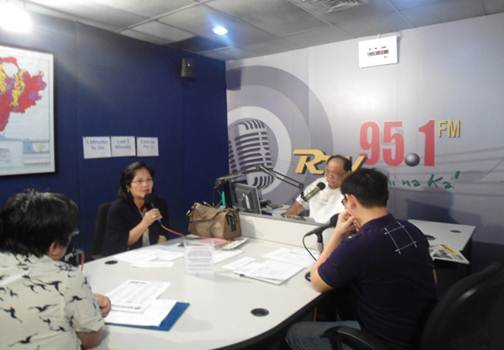 In order to promote and inform the public of the Department of the Interior and Local Government's current projects and programs, DILG-R3 Regional Director Florida M. Dijan guested on the January 8, 2014 Episode of "TalakayanNgayon" at DWRW-FM 95.1. RD Dijan shared the BEST Program Outcomes of the Department which stands for Business Friendly and Competitive LGUs, Environment-Protective, Climate Change adaptive and Disaster Resilient LGUs, Socially-Protective and Safe LGUs and Transparent, Accountable, Participative and Effective Local Governance (B.E.S.T).
When asked about the major role of DILG, RD Dijansaid, "The DILG is tasked to provide capability building interventions to LGUs in order to make local officials more effective and efficient in accomplishing their responsibilities as public servants. This will help LGUs achieve excellence in local governance.

RD Dijan also informed the listeners that DILGR3 already has released the official list of 2012 Seal of Housekeeping (SGH) awardees which were conferred this FY 2013 and the P42 million worth of projects for one Province, three Cities and 26 Municipalities. Likewise, awards were granted to the LGUs for their exemplary performance in settling disputes within their community. These LGUs made it to the Lupong Tagapamayapa Incentive Awards (LTIA) National level.

According to the Director the DILG together with its partner agencies continuously provides orientation and training programs for local officials particularly the newly elected barangay officials.

In her parting words, RD Dijansaid that DILG serves as the guardian angel of the LGUs because the Department exists to provide necessary assistance and intervention to all Local Government Units.

"Talakayan Ngayon" is hosted by Perry Pangan with his co-hosts Albert Lacanlale and Ding Cervantes.