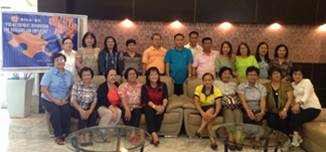 The Finance and Administrative Division of the Department of the Interior and Local Government Region 3 through the initiative and strong leadership of Regional Director Florida M. Dijan, CESO III, had successfully conducted the first time ever two-day seminar for future retirees entitled "Pre-Retirement Information for Managers and Employees" (P.R.I.M.E.) on September 19-20, 2013 at the Royal Garden Golftel, Angeles City. This was participated in by 23 retirees in 2013-2019 personnel coming from the provincial and city offices of the region.
The seminar was aimed to provide relevant information on the retirement options with the corresponding benefits and privileges to enable them to identify plans and priorities prior to their retirement.
In her inspirational message, RD Dijan thanked and appreciated all the efforts, loyalty and commitment of the participants toward their work. She mentioned that the Management Team is looking to the welfare of the employees from recruitment to retirement, thus the PRIME.
The 2-day seminar included discussion on Philhealth Benefits and special medical packages that could be availed of by Senior Citizens by Mr. Robert Padron, Chief Social Insurance Officer of Philhealth Angeles City Office, Management of Income and Expenses by Budget Officer Rina Mallari , GSIS Act of 1997 or RA 829 by FAD Chief Anita Adriano, investment products or saving options by a private bank representative, Liquidity and Legacy by SAO Milagros Bengco, after retirement sharings of former DILG R-3 Regional Director Leonilo B. Lariosa and former DILG Bataan OIC-Provincial Director Virginia Lustre and a roadmap to retirement by ARD Abraham Pascua.
During the activity, the participants engaged in mental and physical exercises . They were also given Beauty Care Tips such as Staying Healthy and Fit; Glowing Old and Beautiful; and Beauty Make-Over. Further, they were provided with hand and back massage and other relaxing services.