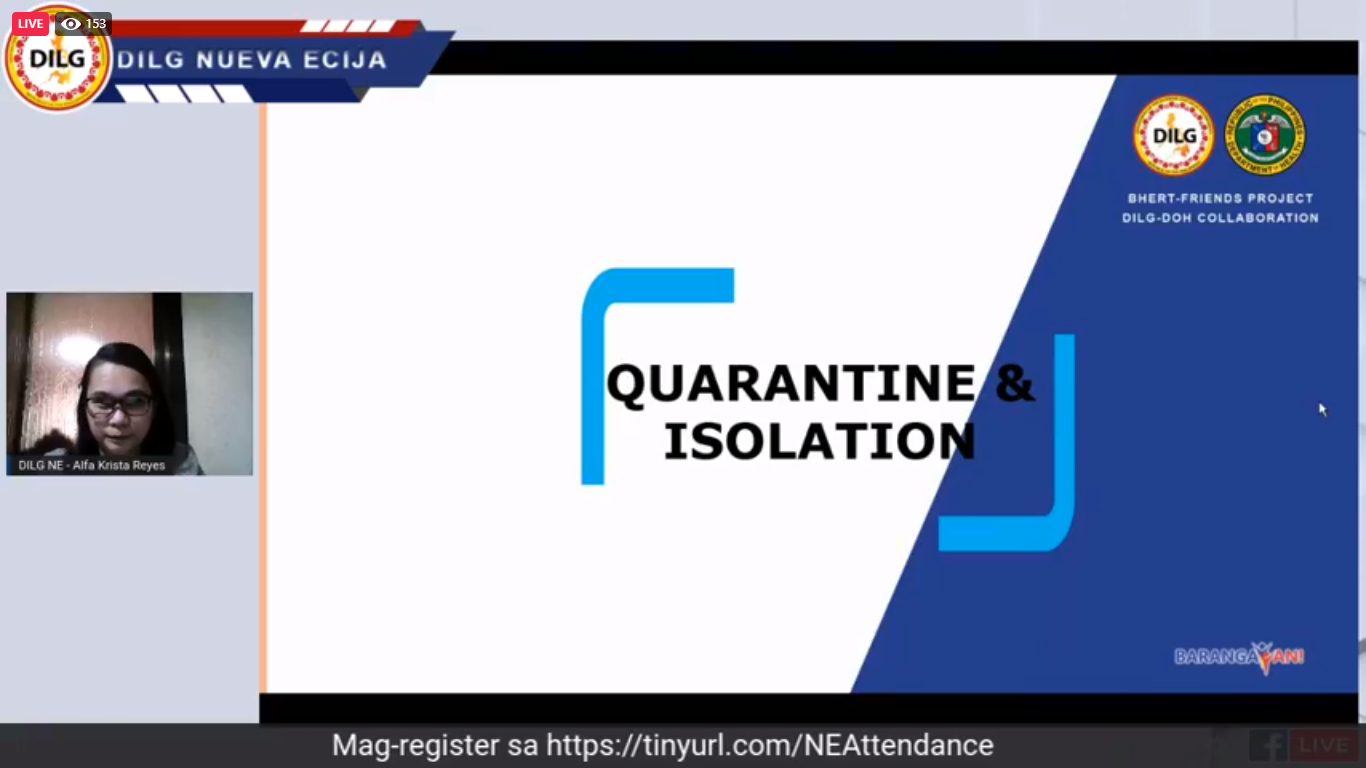 (Screen Shot taken during Facebook Live Broadcast)
To fortify the capacities of Barangay Health Emergency Response Teams (BHERTs) in the province, DILG Nueva Ecija, through the leadership of Provincial Director Renato G. Bernardino, conducted "Building Healthy Communities by Enhancing Capacities and Revitalizing BHERTs Towards COVID-FREE Philippines-First Responders In Ending Ncov Diseases" (BHERT-FRIENDS) Project Online Webinar Series Episodes 1 and 2 titled: "Engaging BHERTs for a Safer Community" and "BHERTs in Action: Safeguarding the Community", respectively, last May 3, 2021 via Facebook Live. The activity was participated in by BHERT members in the province.
Jumpstarting the activity were DILG Secretary Eduardo M. Año and DOH Secretary Francisco T. Duque III who delivered their keynote messages. Secretary Año, in his speech, stressed that the DILG hopes that the online webinar series will not only enhance the knowledge and skills of BHERTs but will also train them on how to apply techniques on their response to disasters and emergencies. Secretary Duque, on the other hand, extended the sincerest gratitude of DOH to the BHERTs for the unwavering sacrifice of their time and energy to protect the citizenry from the pandemic. The secretary said that the BHERTs are our modern-day heroes and that the DOH, the DILG and the LGUs are working hand in hand to further strengthen their capacities in the implementation of minimum public health standards and COVID-19 case identification, detection and management.
Subsequently, DILG Undersecretary Jonathan E. Malaya delivered the welcome message for the activity. In his speech, Usec. Malaya implored the BHERTs to find greater meaning in their key roles of safeguarding the community and encouraging those who are experiencing COVID-19 symptoms to consider BHERTs as their friends during their illness.
Thereafter, NBOO Director Dennis D. Villaseñor, MNSA, CESO IV introduced the BHERT-FRIENDS Project. In his introduction, he emphasized that the project aims to enhance the knowledge and skills of BHERT members in the performance of their mandated duties and functions and to strengthen their capabilities especially in this time of the pandemic. Following NBOO Director Villaseñor was NBOO Assistant Director Debbie T. Torres, CESO IV who introduced the Barangayyan Agenda.
Afterward, LGOO III Vivorey S. Lapitan presented a backgrounder of the BHERT-FRIENDS Project. LGOO III Lapitan also discussed "Facts on COVID-19", "Getting to Know BHERT" and "Management of COVID-19 in the Community".
LGOO III Lapitan was followed by LGOO V Kimberly Ruiz who discussed "10 Things about the COVID-19 Vaccination Program Everyone Must Know". Then, LnB President Eden C. Pineda and DILG Undersecretary for Barangay Affairs Martin B. Diño led the call for solidarity and call for action, respectively.
Further, LGOO V Edgardo V. Adriano, Jr. discussed "Case Identification and Investigation", "Case Finding: Surveillance and Contact Tracing" and "Case Management and Monitoring". Program Manager and LGOO VI Alfa Krista C. Reyes, on the other hand, discussed "Quarantine and Isolation". Concluding the roll-out was LGOO V Anna Marie P. Batad who discussed "Safety Tricks for BHERTs".
LGOO III Maricar Janice C. Perez and LGOO II Marie Chia S. Roncesvalles hosted while LGOO III Philip Nathan B. Moral and LGOO II William Philip A. Villena handled the technical aspects of the activity.