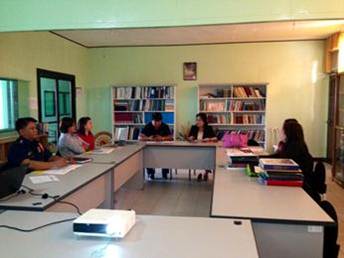 The Regional Awards Committee (RAC) of the 2013 Lupong Tagapamayapa Incentives Awards (LTIA) was reorganized and reactivated on March 6, 2013 at DILG R3 LGRRC, Maimpis, City of San Fernando, Pampanga.
The RAC is responsible in initiating and coordinating activities toward the successful implementation of the LTIA, particularly the selection and submission to the National Awards Committee the best performing Lupons in the region. It is composed of the DILG Regional Director as the Chairperson, the Regional State Prosecutor as Vice-Chairperson and the Executive Judge, representative from RPOC, president of the Regional Chapter of Liga ng mga Barangay and two (2) region-based NGO representatives as members.
In the message given by RD Nini Dijan, she thanked each members present for their constant support to the program and this year's Search will be more challenging for the committee since the number of Regional Contenders has increased by 100% and cash price will be given to the Regional Winners in each category.
The members of the committee were re-oriented on the LTIA guidelines. Likewise, strategies on the effective implementation of this year's search were discussed.