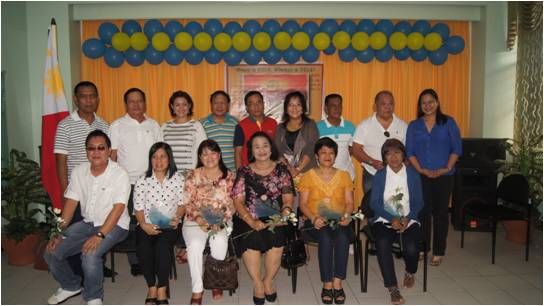 DILG Region 3, under the leadership of Director Florida M. Dijan, payed tribute to the retirees covering the period January 2012 – January 2013 on January 31, 2013 at DILG Region 3, City of San Fernando, Pampanga,. The activity themed as, "Once a DILG always a DILG," was aimed to recognize the significant contributions and long years of dedicated service rendered by the retirees to the Department.
Honoured and recognized were fourteen (14) DILG Region 3 retirees composed of 6 LGOOs VI, 6 LGOOs V, 1 LGOO II and 1 Admin. Assistant II from the 7 provinces of the region. Each of them received a Plaque of Recognition and a cash amount of Php 5,000.
Among the highlights of the activity were powerpoint presentation of the 14 retirees along with helpful tips to pursue a more meaningful life after retirement, impressions from the two retirees, and the rendition of song numbers by DILG R-3 staff and on-the-job trainees.
ARD Abraham Pascua delivered the welcome message. He stated that the activity served as a way of formally saying farewell to the retirees. He mentioned that their years of experience and expertise gained in serving the Department will be greatly valued and that their retirement will lessen the pioneers of DILG.
RD Florida Dijan, on the other hand, said that their contributions will definitely leave indelible mark to the Department. She expressed both gratitude and joy on their retirement as they will already be free from the pressures on complying with orders, beating deadlines and reporting daily to office.