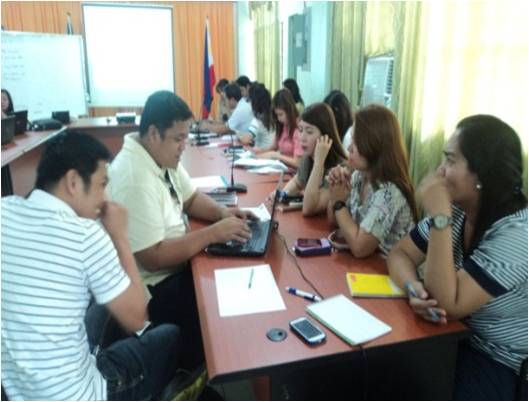 DILG R-3 engaged in a Two-Day Workshop on the Crafting of its Operations Manual for the Local Governance Regional Resource Center (LGRRC) on May 8-9, 2013 at DILG Regional Conference Room, City of San Fernando, Pampanga. It was participated in by the LGRRC-3 Regional Team and Provincial and City Focal Persons of 7 provinces and 2 Highly Urbanized Cities in the region.
OIC-CDD Chief Martin Porres Moral, LGRRC-3 Coordinator, underscored the importance of the activity as it will serve as the blueprint in the implementation of different capacity development programs for LGUs. He also related the region's initiative on basic sector mapping which will form part of the manual particularly on the identification of strategies on multi-stakeholdership and convergence.
A.O. IV Miriam Gaviola, Public Education and Citizenship Facility Head, discussed the LGRRC 3's current Vision, Mission and Goal (VMG), draft Knowledge Management (KM) Framework and First Quarter Milestones. She also explained the basic principles of the Local Governance Resource Center (LGRC) and KM. On the other hand, ITO Melerie Pineda, Multi-Media and Knowledge Facility Head, presented the LGRRC-3 Roadmap and Workplan for 2013.
OIC-Asst. CDD Chief Jeffrey Manalastas, Capacity Development Facility Head, facilitated the workshops in crafting the different chapters of the manual. Participants were divided into regional and field groups.
ARD Abraham Pascua, LGRRC-3 Program Manager, informed the participants on the Monitoring and Evaluation (M&E) instrument to be used by the Local Government Academy (LGA) in the assessment of the LGRRC performance.
Mr. Joel Cruz, National LGRC Program Coordinator, explained and shared a model on how to come up with the LGRRC Knowledge Map, Operating Systems and Procedures, Structure and strategies on Sustaining and Popularizing its programs and services. He also facilitated the workshop on KM needs of the LGRRC's four core services.
RD Florida Dijan, in her message, stated that the DILG personnel must set good example of model service delivery. She also expressed appreciation on the participation and support of Field Offices especially in putting up respective LGRC at the DILG Provincial and City Offices. She further urged everyone to do his or her best towards better improving the operations of the center.
The LGRRC-3 Operations Manual crafted during the 2-day activity will serve as reference and guide in the operation of the center as well as basis on the Business Plan formulation of its Multi-Sectoral Advisory Committee (MSAC).