The Department of the Interior and Local Government Region 3 through the leadership of Regional Director Florida Dijan has conducted an orientation course program entitled "Be BOLD (Be an Outstanding LeaDer and aim for the BEST (Business-Friendly, Environment Protective, Climate Change Adaptive and Disaster Resilient, Socially Protective and Safe, Transparent, Accountable, Effective and Participative LGUs): An Orientation on Local Governance" on June 18-20, 2013 at Subic International Hotel, SBMA, Zambales.
The training was intended to equip the newly – elected Local Officials to include first and second termer City/Municipal Mayors with the necessary knowledge and attitude to effectively and efficiently manage their respective localities during their term of office. The activity also served as the venue for local officials to formulate their program of governance and at the same time provide an opportunity to establish linkage between the LGUs and National Government Agencies. The 81 participants composed of local chief executives likewise had the chance to learn from the experiences/best practices of other LGUs that they can replicate in order to address the needs of their constituents.
Righteous Leadership was shared by Pastor Felix Vladimir Francisco while core programs of different National Government Agencies in Central Luzon such as the Home Development Mutual Fund (HDMF), Department of Social Welfare and Development (DSWD), Department of Agriculture (DA), Department of Agrarian Reform (DAR), Bureau of Fisheries and Aquatic Resources (BFAR), Technical Education and Skills Development Authority (TESDA), Department of Labor and Employment (DOLE), Department of Science and Technology (DOST), Department of Public Works and Highways (DPWH), Department of Trade and Industry (DTI), Philippine Health Insurance Corporation (PhilHealth), Department of Health (DOH), Bureau of Local Government Finance (BLGF), Department of Budget and Management (DBM), Commission on Audit (COA), Civil Service Commission (CSC), Philippine National Police (PNP), Office of Civil Defense (OCD) and Department of Environment and Natural Resources-Environmental Management Bureau (DENR-EMB) were discussed by the Regional Directors and representatives.
Balanga City Mayor Hon. Jose Enrique S. Garcia, III also shared the good practices of the LGU including its priority programs and projects. DILG -3 Regional Director Florida Dijan on the other hand presented the Department's Indicative Framework of Governance as well as DILG Central Luzon's programs and accomplishments. Furthermore, relevant topics on local governance were discussed by DILG-3 OIC Assistant Regional Director and concurrent Nueva Ecija Provincial Director Abraham Pascua, Pampanga Provincial Director Myrvi Fabia, Tarlac Provincial Director Araceli San Jose, OIC CDD Chief Martin Porres Moral and Regional Information Technology Officer Melerie Pineda.
During the closing program, selected participants shared their impression of the three-day orientation. They also expressed their appreciation on the conduct of the said activity and gave valuable feedbacks to the training management.
As a climax, all of the participant-LCEs manifested their support by signing the Pledge of Commitment to strive for excelle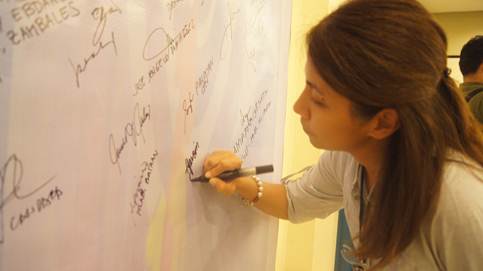 nce in local governance in order to attain inclusive and sustained growth and poverty reduction.