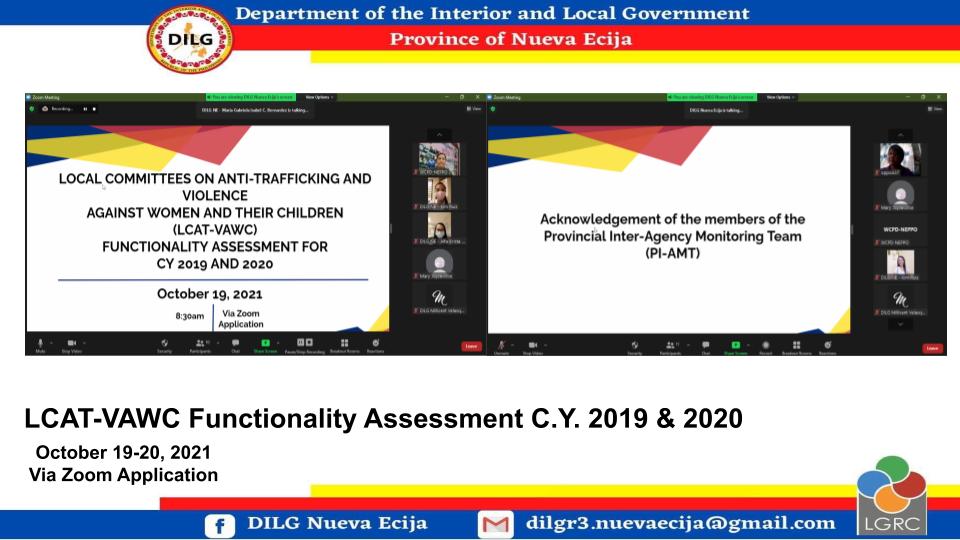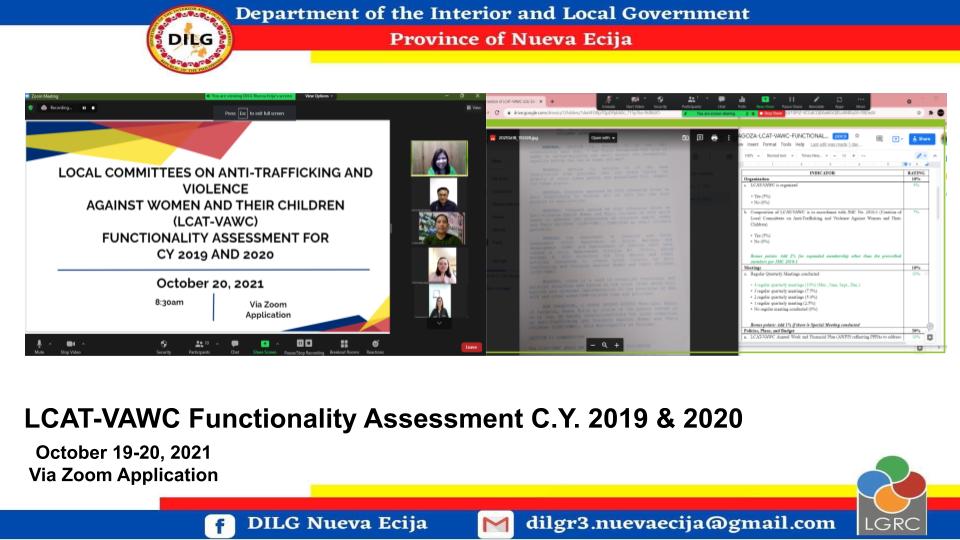 DILG Nueva Ecija conducted a two-day Assessment for the Functionality of LCAT-VAWC CY 2019 and 2020 in the Province of Nueva Ecija on October 19-20, 2021 via Zoom Meetings Application.
It was carried out in accordance to the Department's Memorandum Circular No. 2020-006 regarding "Guidelines in Monitoring the Functionality Assessment of Local Committees on Anti-Trafficking and Violence Againts Women and Children (LCAT-VAWC).
The initial run of the LCAT-VAWC functionality assessment was deferred in 2020 due to the declaration of State of Public Health Emergency and in view of the country's shift to a more relaxed community quarantine measures, it is deemed necessary to resume the said assessment.
The audit was covered the performance in CY 2019 and 2020 and assessed based on four (4) indicators: 1. Organization, 2. Meeting, 3. Policies, 4. Accomplishments. The activity is aimed to assess the City/Municipal Committee on Anti-Trafficking and Violence Against Women and their Children (C/MCAT-VAWC) based on the documents presented using LCAT-VAWC Form No. 1 and discuss with the LCE the outcome of the assessment and provide recommended actions to address issues concerning the functionality of C/MCAT-VAWC.
The activity was participated by the Provincial Inter-Agency Monitoring Team representatives chaired by LGOO VI Alfa Krista C. Reyes, together with the representatives from the Nueva Ecija Provincial Social Welfare and Development Office, Nueva Ecija Provincial Police Office, and KALIPI - Civil Society Organization. Also present in the virtual activity were LGOO VII Danilo C. Rillera, Cluster I Team Leader, LGOO VII Ariel G. Espinosa, Cluster II Team Leader, LGOO II Maria Gabriela Isabel C. Bernardez, LCAT-VAWC Provincial Focal Person and ADA IV Millicent Kaye I. Velasquez, AFP.