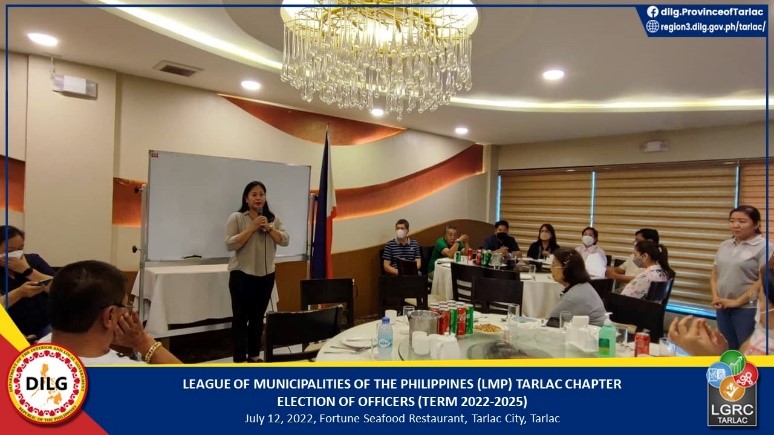 Hon. Estelita M. Aquino led the new set of LMP Tarlac Chapter officers for the term 2022-2025 following her proclamation as the re-elected provincial LMP president on July 12, 2022 at Fortune Restaurant, Tarlac City, Tarlac.
 The elected provincial chapter officers of LMP Tarlac are the following:
Vice President: Mayor Noel Villanueva (LGU Concepcion)
Secretary: Mayor Nora T. Modomo (LGU Santa Ignacia)
Treasurer: Mayor Alice Leal-Go (LGU Bamban)
Auditor: Mayor Erlon C. Agustin (LGU Camiling)
PRO: Mayor Rex Villa Agustin (LGU Victoria)
Board of Directors:
Mayor Gian Pierre O. De Dios
Mayor Roseller Rodriguez
Mayor Eloy C. Eclar
Mayor Venustiano Jordan
Mayor Iluminado Pobre, Jr.
Mayor Leonardo Roxas
Mayor Freddie Domingo
Mayor Celso Banag
Mayor Elma Macadamia
Mayor Romeo Capitulo
Mayor Donya Tesoro
The election was presided over by the league's Interim President Mayor Estelita Aquino and attested by DILG Tarlac Provincial Director Armi V. Bactad and representatives from the National LMP.